Your Birth Wavespell is the "week" of 13 days that symbolically represents the portal through which you came into this world. You were born on one of those 13 days.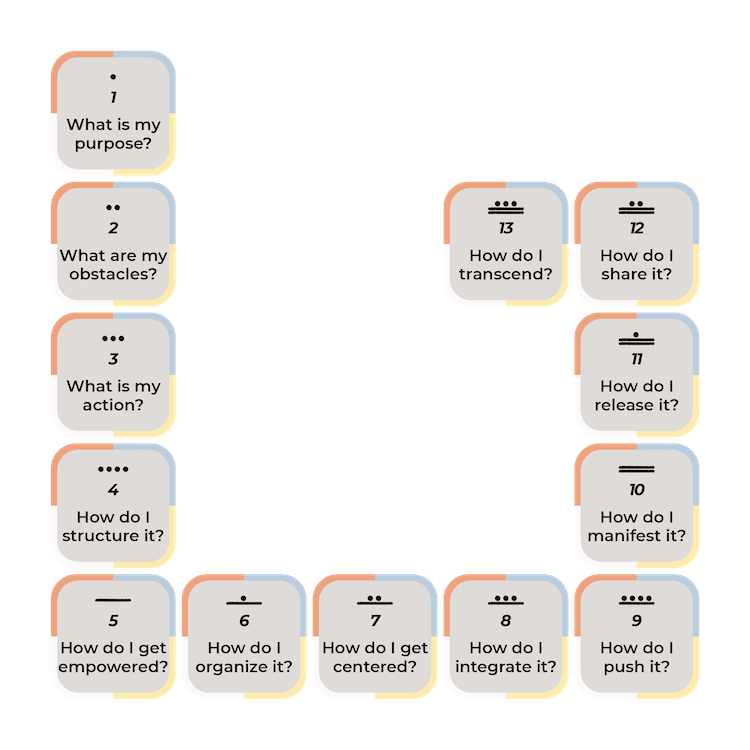 The first day of your Wavespell indicates your Life Purpose, what you are here to do. Your Destiny Kin or birth sign, based on your position in these 13 days, represents your Mission and the way you accomplish your purpose. The other Kins are your life companions and each has an important message for you related to how you do certain things. This information comes from the Kin that answers to each of the questions shown in this image.
The Kins within your Wavespell interweave with your Destiny Kin creating a beautiful flow that helps you to strengthen your core, find hidden treasures within and change what no longer serves you.
Approached as a sequence, learning how to follow the 13 steps of your Birth Wavespell serves as a guideline to realize any idea, dream or project you want to manifest in your life.
At the end of the session, we will share a guided meditation to embody your Wavespell by moving it physically and experiencing its vibrations in your body.
Remember to check when your Wavespell of Birth starts in this cycle and plan things in advance for each of its 13 days, as this is the period most relevant to you. If you need guidance, you can book a Planning session to see it more in depth, as I share some rituals, activities and ideas you can do in those days.
Note: If you are new into the Tzolkin, you may want to start first with your Oracle of Birth.