The Medicine Wheel is a sacred living object or space used by different indigenous cultures, mainly Native American and First Nations people. As a physical representation of energy, the Medicine Wheel is a circle divided in four parts. Among others, it honors the four cardinal directions (East, South, West and North), the four elements (Fire, Water, Earth and Air) and our four levels of existence or healing (Spiritual, Emotional, Physical and Mental).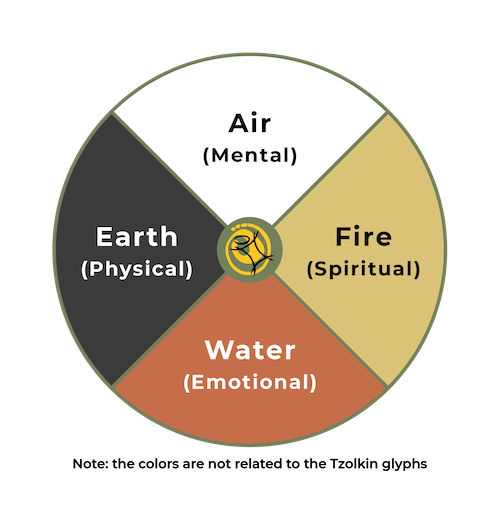 Although most cultures use the Medicine Wheel for similar purposes, different traditions have the colors and their meanings positioned in different ways. This is how I personally use it.
Walking the Medicine Wheel symbolically means to experience the four directions as a roadmap to heal body, mind, heart and soul and restore balance physically, mentally, emotionally and spiritually.
Within a Wavespell, each day has a combination of a specific archetype and action. This cycle of 13 days contains four dimensions or levels of existence: spiritual, physical, emotional and mental. Based on my studies of shamanic practices, I have developed a tool that combines the Medicine Wheel with your Wavespell of Birth showing you which of your energies are represented on each level so you can work on those specific aspects in each direction.
Note: The Medicine Wheel and Wavespell of Birth readings complement each other. Before having this reading, it is recommended to start with your Wavespell of Birth first.