---
Closing the Cycle
with a Reflection and a Look Ahead
Who would have imagined when this Tzolkin cycle started in March 30, 2020 that we would be where we are today?
I remember reading the news in disbelief when the President of Argentina announced that no foreign flights were allowed in the country due to Coronavirus. It was literally 10 days before our departure to Buenos Aires with a full schedule ahead. Well, that was just the beginning… Every single plan I had for 2020 got cancelled, including the many itineraries overseas and hosting groups in Sedona.
Today, as we start the Yellow Star Wavespell, and closing this 260-day Tzolkin cycle, I reflect where these roughly 9 months went and what has happened collectively and personally.
It feels we are experiencing the world of dualities in its full expression. From one side limited freedom, and from the other more freedom. From one side isolation, and from the other more meaningful connections. Feeling anger and joy. Fearing uncertainty and opening up to new opportunities. And so on.
What is evident with this experience is the fact that things are shifting for humanity globally. And Big Time! This "pause mode" we are all in, or "cocooning" state as I call it, has helped many to deeply reflect what life is about, what our priorities are and what truly matters at the end of the day. Circumstances are circumstances, and we get to choose how we experience them.
Where I am Personally Today
While it definitely hasn't been an easy year for me either, I am so grateful for this extra time I didn't know I would have.
Since not being able to travel, I have been more available to do private sessions and programs, which I love and it has allowed me to work with new wonderful people from around the world. Also, I've been dedicated to train myself in art therapy and mindful creativity, which I am now incorporating into my practice.
I am currently developing several new programs related to simple creative practices in general, and also focused on the Chakra system, Medicine Wheel, Andean Cosmovision, and other great tools and modalities I have been using for many years.
As the future is still uncertain and we don't know how or when things will unfold, my invitation to all of you is to put your attention into things you love, what makes you happy and what helps you to grow. Remember "Energy flows where Attention goes."
Playing with Creativity: Your Wishing Tree
As we get closer to the Solstice, Christmas, Hanukkah, other festivities and the end of the year, a common theme is the return of the light. Bringing in the Yellow Star archetype of beauty and creativity, let's create a wishing tree that holds our intentions, wishes and all the beautiful things we envision for our planet and humanity in these challenging times. Cut pieces of paper or cardstock, and write in each a wish or intention. You can hang them with ribbon, cord or yarn outdoors if you have trees on your land, add them to your Christmas tree or just draw/color a tree on a paper and add your wishes to it while holding your intentions in your heart.
Happy creative closure and may your wishes come true!
---
New Tzolkin Daily Planner for the Upcoming Cycle ~ Starts on 15 December!
Digital Product in PDF format (letter or A4 paper size)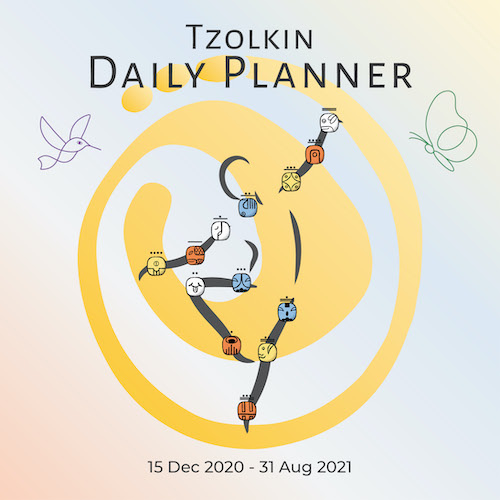 Get the digital version of the Tzolkin Daily Planner here so you can start planning your days in more meaningful and playful ways! As you embody the Wavespell daily, this Planner is also a great companion to log any special experience, as a synchronicity, insight, dream, event and others.
---
Would you like to gain clarity and receive guidance on how to best navigate during these times? Let's meet for 1.5 hours to see how you are feeling and what you can do to embrace all the opportunities available specifically for you at this moment.
The four Wavespells within the Green Castle are:
Red Moon a time to feel all of your feelings and release emotions that are blocking you from feeling good and happy so you can flow with ease and wellbeing
White Wind a time to express yourself authentically with respect and kindness, as you feel free to be who you truly are
Blue Eagle a time to detach from the struggle so you can see the big picture and find new ways to approach things and shift your perception
Yellow Star a time to unleash your creativity, play with colors, shapes, textures, tastes, find creative solutions and do fun things with joy and beauty
Instead of continuing to wait for a change to happen, it's time to create it ourselves! And create it with flow, with authenticity, with expanded vision, and with beauty.
During this session, we will go over what these four archetypes mean to you in general, and how you experience them on an ego and soul level. As I share how to integrate their teachings and transform shadows into light, we will see based on your energies of birth the most beneficial dates for you within the Green Castle to do –or not to do- certain things.
This special personal session is on an experiential level that you can integrate into your daily life right away, and it will only be available during this Green Castle from October 24 to December 14, 2020.
Note: In order to make it more accessible for these times, this session has a special rate.
---
These are the affirmations for the next 13 days:
| Day | Date | | Kin | Affirmation |
| --- | --- | --- | --- | --- |
| 1 | 2 Dec | | Magnetic Star | I am ready to create a beautiful life! |
| 2 | 3 Dec | | Lunar Moon | I am at peace when I flow in what I feel! |
| 3 | 4 Dec | | Electric Dog | I activate service with love and compassion! |
| 4 | 5 Dec | | Self-Existing Monkey | I shape my world with joy and a playful spirit! |
| 5 | 6 Dec | | Overtone Human | I empower myself when choosing wisely! |
| 6 | 7 Dec | | Rhythmic Skywalker | I restore balance by emptying my backpack! |
| 7 | 8 Dec | | Resonant Wizard | I feel confident and in resonance with creation! |
| 8 | 9 Dec | | Galactic Eagle | I integrate what I see with creativity! |
| 9 | 10 Dec | | Solar Warrior | I move forward with determination! |
| 10 | 11 Dec | | Planetary Earth | I manifest beauty on the planet! |
| 11 | 12 Dec | | Spectral Mirror | I release what is not in alignment with my values! |
| 12 | 13 Dec | | Crystal Storm | I share with others my transformations! |
| 13 | 14 Dec | | Cosmic Sun (GAP) | I shine brightly and irradiate my Light into the world! |
These 13 affirmations, one for each day of this Wavespell, help to get in tune with the daily energies as a way to reflect, meditate, journal, do something creative or whatever inspires you. Say the daily affirmation out loud, see how it feels and move your body. If you are just joining, you can check here the proposal for this cycle to learn the meaning of a Wavespell embodiment and how to do it. Enjoy!
---
Do you want to explore further?