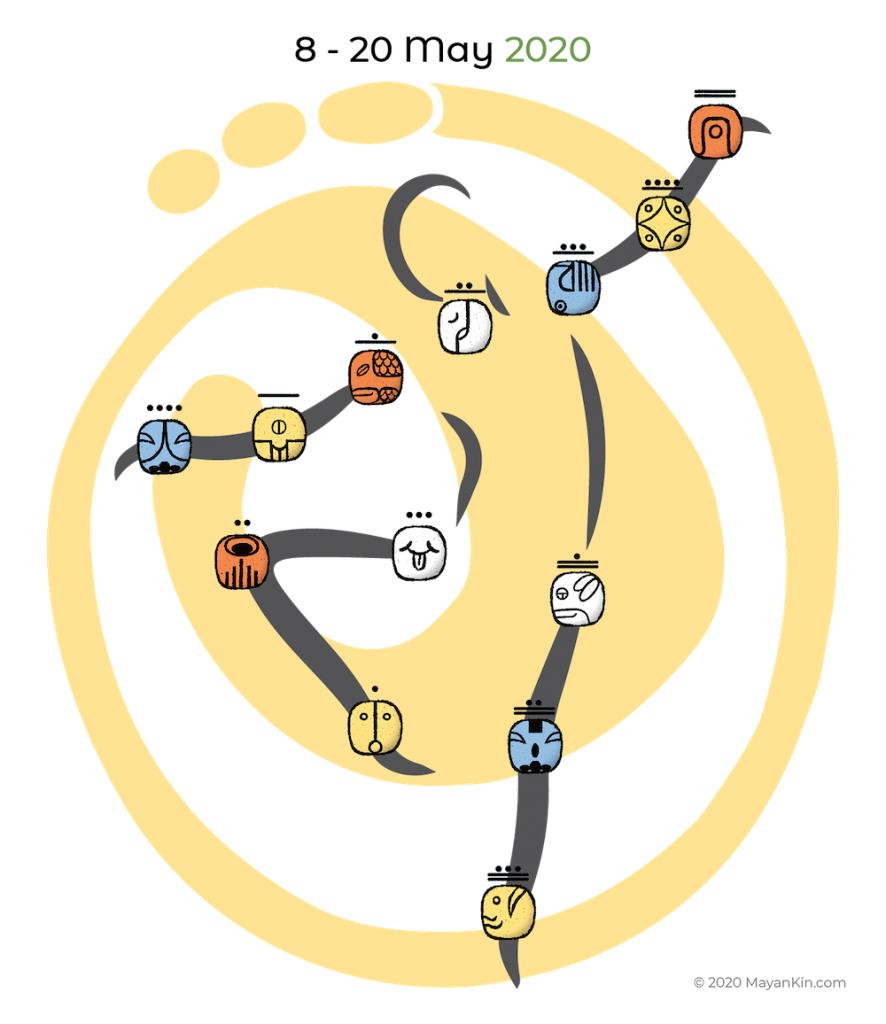 Click on the image to get the printable version
Clarity & Choices
How interesting times we are living in! The fact that we cannot continue with our "normal" schedules and plans is giving us this great opportunity to focus on what is truly important to us and do things we generally "don't have time" for. And it is also making us question our lifestyle, priorities and interconnectedness.
Today the Yellow Sun Wavespell starts, and one important aspect of this archetype is Clarity. The first and last days of a Wavespell always tell a story, in this case day 13 is Yellow Human, the power of Choice. Bringing this information to a very practical level, when we step into our own power and gain clarity on who we are and how we want life to be, we become conscious of how our actions have an impact on others and the environment, and it's easier to make wiser choices that match this new reality helping us to grow as we contribute to the greater good.
In regards to the pandemic situation we are all in at the moment, it is clear that we cannot go back to what was known until very recently as "normal". In this transition to the "new normal", we can choose to feel victims of the circumstances and stay caught in a constant state of fear or anger, or we can choose to make the best out of this in spite of the challenges we are all facing and also see the many blessings it is offering us individually and collectively. The more of us that choose to see the good in it and act accordingly, the easier it will become to create a critical mass to make the shift and manifest the world we are dreaming of. Are you joining?
These are the affirmations for the next 13 days:
| Day | Date | | Kin | Affirmation |
| --- | --- | --- | --- | --- |
| 1 | 8 May | | Magnetic Sun | I am ready to shine brightly! |
| 2 | 9 May | | Lunar Dragon | I am at peace when I nurture myself! |
| 3 | 10 May | | Electric Wind | I am of service by expressing my truth! |
| 4 | 11 May | | Self-Existing Night (GAP) | I shape my world with self-worthiness! |
| 5 | 12 May | | Overtone Seed | I empower myself with patience and trust |
| 6 | 13 May | | Rhythmic Serpent | I restore balance by resting! |
| 7 | 14 May | | Resonant World Bridger | I resonate with all creation as a bridge! |
| 8 | 15 May | | Galactic Hand | I integrate healing in holistic ways! |
| 9 | 16 May | | Solar Star | I move forward by walking in beauty! |
| 10 | 17 May | | Planetary Moon | I manifest what makes me feel great! |
| 11 | 18 May | | Spectral Dog (GAP) | I release what blocks me from loving! |
| 12 | 19 May | | Crystal Monkey (GAP) | I share with others my joy! |
| 13 | 20 May | | Cosmic Human | I choose consciously and with clarity! |
These 13 affirmations, one for each day of this Wavespell, help to get in tune with the daily energies as a way to reflect, meditate, journal, do something creative or whatever inspires you. Say the daily affirmation out loud, see how it feels and move your body. If you are just joining, you can check here the proposal for this cycle to learn the meaning of a Wavespell embodiment and how to do it. Enjoy!
Tzolkin Daily Planner for this Cycle!
Digital Downloadable Format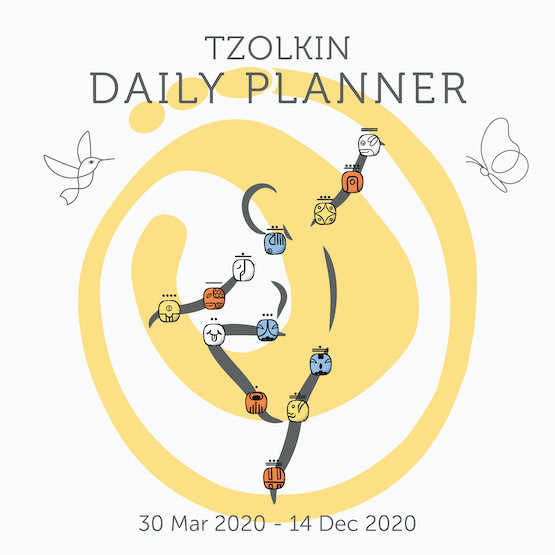 Get the digital version of the Tzolkin Daily Planner here so you can start this new cycle by planning your days in more meaningful and playful ways! As you embody the Wavespell daily, this Planner is also a great companion to log any special experience, as a synchronicity, insight, dream, event and others.
Trips for the Soul!
Since it is not clear yet how the situation with the coronavirus will unfold globally and when we will be able to travel, all my itineraries for this year are put on hold until further notice. Hopefully, a solution will be found soon and we can start planning for the future again. If all goes well, the intention is to move the trips to October and November of this year. Now the priority is for all of us to stay safe and be mindful of our own health and of others. I am developing a couple of new websites at the moment and look forward to share with you some photos and experiences from previous trips to virtually enjoy those beautiful and sacred places together!
Do you want to explore further?