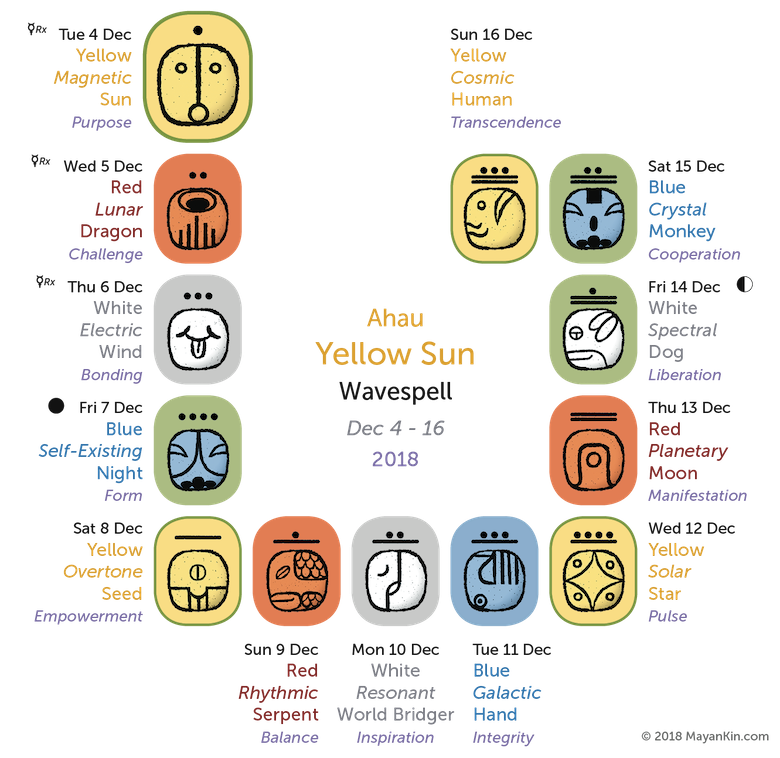 (click on image for more details – separate page will open)
Keeping Inner Flame Alive
Just like the Sun shines brightly as the source of life to all beings on our planet, our inner flame is our symbolic personal Sun that keeps us warm, alive and motivated to pursue our goals and make our dreams a reality. When we feel great, strong and empowered, we can manifest whatever we want! When we give our power away and let others absorb our energy, we feel fragile and burned out. Notice in which environments, relationships and situations you feel great and shine. Do more of what you love and be with people that respect and support you. How can you shine more brightly today?
***
The Yellow Sun Wavespell gives closure to the Red Castle that started on October 26, 2018, a period of 52 days of initiations.
Current Cycle
From October 26, 2018 to July 12, 2019 (to read about the proposal and format for this cycle and download useful documents click here).
In Lak'esh & Munay,

Yellow Electric Star
In Lak'esh means "I am another yourself!", a Mayan greeting that recognizes the Divine in each living Being. It's a message of Unity that reminds us that, when we give, we are also receiving. In this way, the Mayan honored and respected each other, reinforcing the belief that we are all interconnected: what we do to others and to our environment will also affect ourselves in the end…
Munay means both 'Love' and 'Beauty' in Quechua, the language of the Incas. Munay, translated as 'To love', is one of the three principles of the Andean way.