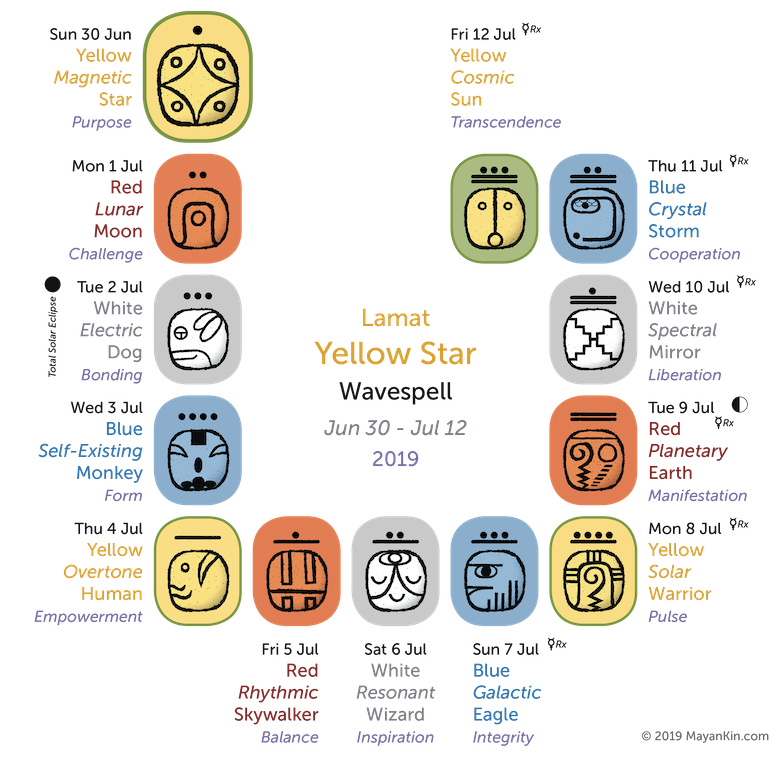 (click on image for more details – separate page will open)
~ Creative Closure ~
We are so happy to start this season here in Sedona with abundant colors and fragrances! The rose bushes in front of our house are blossoming and Nature is joyful and beautiful. It looks like there is a little heart in the middle of the yellow rose and it has the most wonderful smell :- )
The Wavespell of the Yellow Star is the last period of 13 days of this entire Tzolkin cycle inviting us to see beauty around and within us. How did you experience these roughly nine months since October 26, 2018? What were the main highlights? What were the main lessons? Could you accomplish your goals?
Now it's time now to start giving closure to this cycle creatively and experience beauty on all levels. Lots of changes and news coming soon!
New Moon with Total Solar Eclipse on July 2, 2019
Eclipses in general represent a shift of some kind and this Total Solar Eclipse falls in the astrological sign of Cancer, which is all about family, friends and home. Home is where the Heart is!
Yellow Star aks us to step out of the routine, of our "automatic pilot mode", and to create new things. Use your creativity daily and find your own and unique way to bring your soul expression forth and share it with others.
Since this eclipse happens on the third day of this Wavespell, with the energies of White Electric Dog, it also helps us to open our hearts more, to experience self-love and love for others, and to be of service at large.
What a great opportunity and perfect timing to transcend, as we give closure to this Tzolkin cycle and get ready for new beginnings starting on July 13.
May your days be filled with beauty and joy, as you feel inspired to create beautiful things and shine!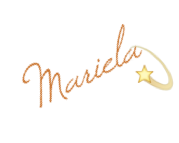 PS.1. If you use the Daily Tzolkin often and visited MayanKin lately, I am sure you noticed that it has been slower than usual. The reason is that we are working behind the scenes to upgrade the site, which will be ready very soon. There will be a more user-friendly date decoder, which will also make it easier getting in tune with the cycle, especially for those that are new into the Tzolkin.
PS.2. Tzolkin Daily Planner Webinar – thanks to those that participated in the live call a couple of days ago and the ones that listen to the recording. If you are having problems login in, please notice you have to put the password that shows on the email you got from WebinarJam just under the link that gives you access to the replay. It is not the password you use to login to your personal page on BridgingWorlds.
PS.3 During this Wavespell Mercury goes Retrograde (July 7-30), and at the start of the upcoming cycle we will have a Partial Lunar Eclipse (July 16-17). I will share more next time!
Current Cycle
From October 26, 2018 to July 12, 2019 (to read about the proposal and format for this cycle and download useful documents click here).
In Lak'esh & Munay,

Yellow Electric Star
In Lak'esh means "I am another yourself!", a Mayan greeting that recognizes the Divine in each living Being. It's a message of Unity that reminds us that, when we give, we are also receiving. In this way, the Mayan honored and respected each other, reinforcing the belief that we are all interconnected: what we do to others and to our environment will also affect ourselves in the end…
Munay means both 'Love' and 'Beauty' in Quechua, the language of the Incas. Munay, translated as 'To love', is one of the three principles of the Andean way.