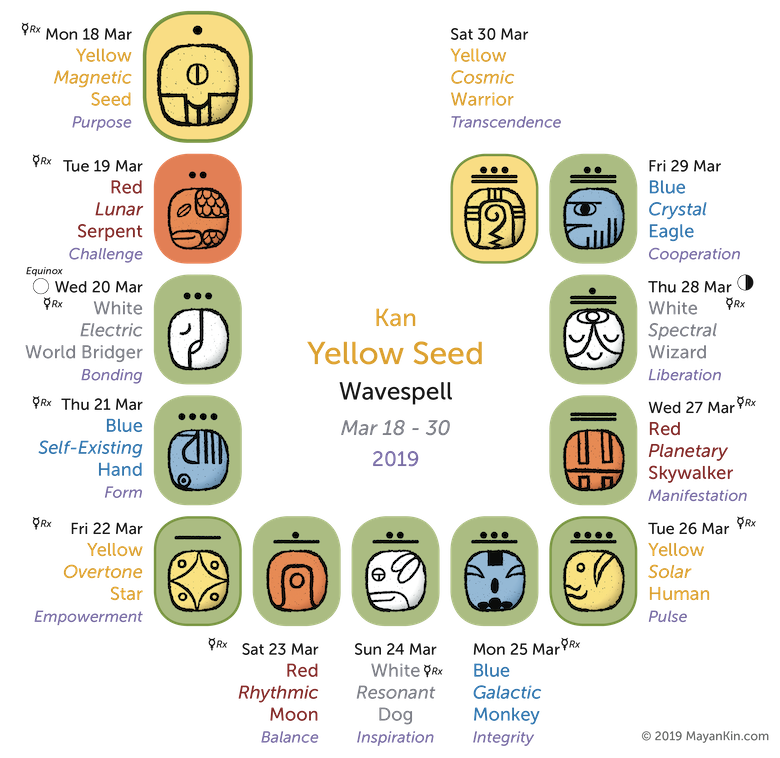 (click on image for more details – separate page will open)
HAPPY BLUE CASTLE OF TRANSFORMATION!
February 7 to March 30, 2019
Fourth and Last Wavespell – Yellow Seed
The Yellow Seed Wavespell is the fourth and last period of 13 days within the Blue Castle of Transformation. Yellow Seed represents our greatest potential, a time to become clear with our intentions and dare to step out of our comfort zone in order to blossom. The second column of 10 consecutive GAP days (Galactic Activation Portals) happens on March 20-29, 2019, an intense time while Mercury is still retrograde to be patient and trust.
For additional information, check this final updated document highlighting where we are in the Tzolkin matrix including the Gregorian dates.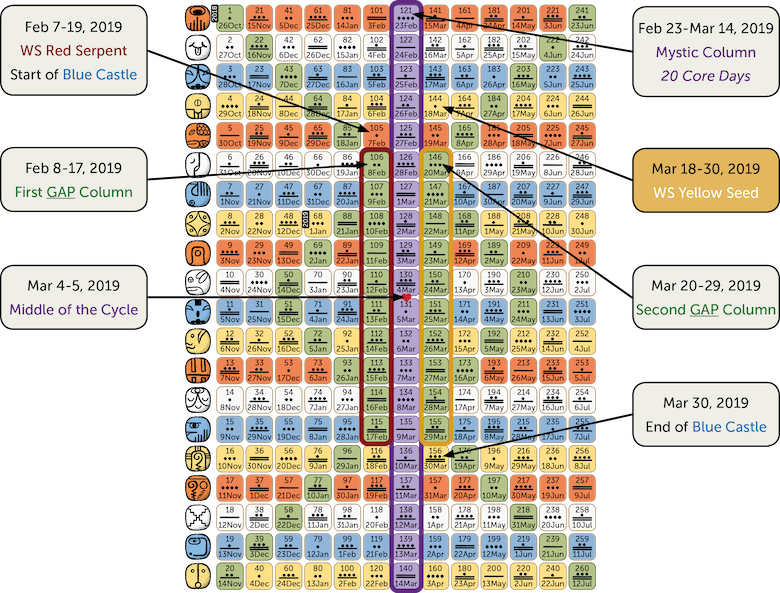 Spring/Autumn Equinox ~ March 20-21, 2019
The Full supermoon coincides this time with the Equinox on March 20, beginning of Spring in the North and Autumn in the South. The two Equinoxes during the year mark the start of a new Season, and these are days when day and night are of equal length; light and shadow are in balance. Also, the new astrological year or zodiac cycle starts with the Sun entering the sign of Aries, so we will have a couple of powerful days that represent a time of closure and new beginnings.
From the Tzolkin perspective, March 20 is White Electric World Bridger. What a beautiful opportunity to do a little ritual of closure (full moon) as we surrender to our true path with patience to restore balance on the first day of the ten Galactic Activation Portal days.
Happy Equinox to all!
Current Cycle
From October 26, 2018 to July 12, 2019 (to read about the proposal and format for this cycle and download useful documents click here).
In Lak'esh & Munay,

Yellow Electric Star
In Lak'esh means "I am another yourself!", a Mayan greeting that recognizes the Divine in each living Being. It's a message of Unity that reminds us that, when we give, we are also receiving. In this way, the Mayan honored and respected each other, reinforcing the belief that we are all interconnected: what we do to others and to our environment will also affect ourselves in the end…
Munay means both 'Love' and 'Beauty' in Quechua, the language of the Incas. Munay, translated as 'To love', is one of the three principles of the Andean way.