---
There Are Many "Truths"
What an intense week it has been so far! The Presidential elections took place in the US this last Tuesday and the final results are not known yet. This is creating a lot of anxiety and stress for many. The country is so split at the moment that it is very difficult for people with different political preferences to have a healthy and constructive dialogue.
One of the main teachings of the White Wind archetype is to be able to speak one's truth without trying to impose ourselves on others. People perceive things from different perspectives, and maybe their "truth" is not your "truth". The most beautiful thing that can happen in relationships is to be able to have the freedom to express oneself from a place of authenticity while accepting and respecting differing opinions. Are you able to listen to other points of view without judging? And are you able to express your opinion in a neutral way without trying to make the other person wrong?
---
Would you like to gain clarity and receive guidance on how to best navigate during these times? Let's meet for 1.5 hours to see how you are feeling and what you can do to embrace all the opportunities available specifically for you at this moment.
The four Wavespells within the Green Castle are:
Red Moon a time to feel all of your feelings and release emotions that are blocking you from feeling good and happy so you can flow with ease and wellbeing
White Wind a time to express yourself authentically with respect and kindness, as you feel free to be who you truly are
Blue Eagle a time to detach from the struggle so you can see the big picture and find new ways to approach things and shift your perception
Yellow Star a time to unleash your creativity, play with colors, shapes, textures, tastes, find creative solutions and do fun things with joy and beauty
Instead of continuing to wait for a change to happen, it's time to create it ourselves! And create it with flow, with authenticity, with expanded vision, and with beauty.
During this session, we will go over what these four archetypes mean to you in general, and how you experience them on an ego and soul level. As I share how to integrate their teachings and transform shadows into light, we will see based on your energies of birth the most beneficial dates for you within the Green Castle to do –or not to do- certain things.
This special personal session is on an experiential level that you can integrate into your daily life right away, and it will only be available during this Green Castle from October 24 to December 14, 2020.
Note: In order to make it more accessible for these times, this session has a special rate.
---
These are the affirmations for the next 13 days:
| Day | Date | | Kin | Affirmation |
| --- | --- | --- | --- | --- |
| 1 | 6 Nov | | Magnetic Wind (GAP) | I am ready to express all of whom I am! |
| 2 | 7 Nov | | Lunar Night | I am at peace when looking within! |
| 3 | 8 Nov | | Electric Seed | I activate service by growing! |
| 4 | 9 Nov | | Self-Existing Serpent | I shape my world with passion! |
| 5 | 10 Nov | | Overtone World Bridger | I empower myself by bridging my worlds! |
| 6 | 11 Nov | | Rhythmic Hand | I restore balance through holistic health! |
| 7 | 12 Nov | | Resonant Star | I allow creative inspiration to guide me! |
| 8 | 13 Nov | | Galactic Moon | I am in harmony when flowing in my feelings! |
| 9 | 14 Nov | | Solar Dog | I move forward in my life with authenticity! |
| 10 | 15 Nov | | Planetary Monkey | I manifest a life filled with joy and contentment! |
| 11 | 16 Nov | | Spectral Human | I release what blocks my freedom! |
| 12 | 17 Nov | | Crystal Skywalker | I share with others great adventures! |
| 13 | 18 Nov | | Cosmic Wizard | I am self-confident to create a magical life! |
These 13 affirmations, one for each day of this Wavespell, help to get in tune with the daily energies as a way to reflect, meditate, journal, do something creative or whatever inspires you. Say the daily affirmation out loud, see how it feels and move your body. If you are just joining, you can check here the proposal for this cycle to learn the meaning of a Wavespell embodiment and how to do it. Enjoy!
---
New Tzolkin Daily Planner for the Upcoming Cycle ~ Starts on 15 December!
Digital Product in PDF format (letter or A4 paper size)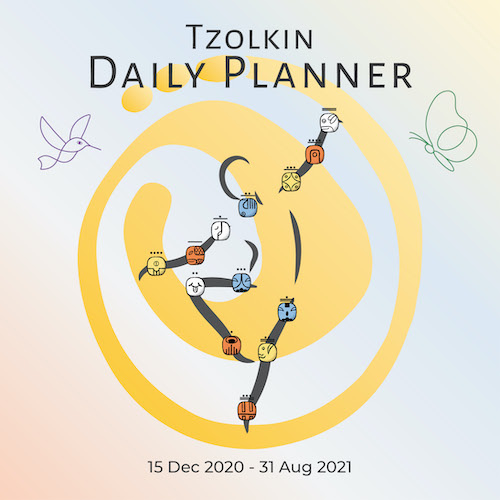 Get the digital version of the Tzolkin Daily Planner here so you can start planning your days in more meaningful and playful ways! As you embody the Wavespell daily, this Planner is also a great companion to log any special experience, as a synchronicity, insight, dream, event and others.
You can find the Tzolkin Daily Planner for the current cycle here.
---
Do you want to explore further?