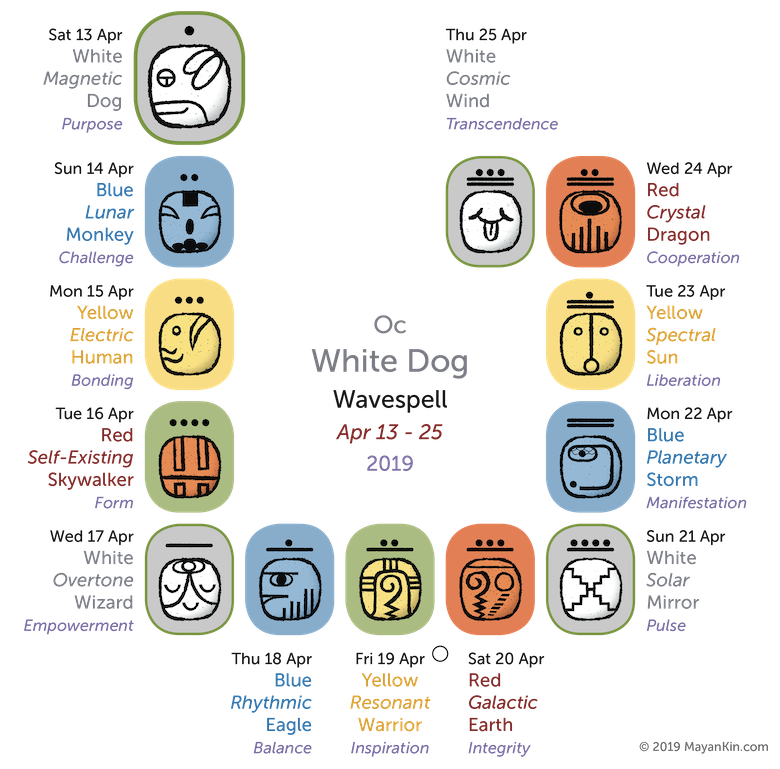 (click on image for more details – separate page will open)
Transforming with Love
Hello everyone! Happy to be in Houston after 18 hours drive from Sedona : -) Passing from Arizona to New Mexico and finally arriving to Texas, we saw all kinds of landscapes and had different experiences. A very special one I would like to share with you, was a private SUV parked on the side of the highway with a big sign that said 'Litter pick-up'. A few meters later, a couple of women were picking up plastic from the forest and putting them in trash bags. Munay in Quechua, the language of the Incas, means Love and Beauty. What a wonderful way to express one's love to Pachamama, Mother Earth, and be active participants in helping to keep our beautiful planet clean and healthy!
Earth Day April 22
White Dog is the power of love and service. On the 10th day of this Wavespell, we will be celebrating Earth Day. Blue Planetary Storm in the White Dog Wavespell reminds us of the importance of our personal loving contribution to manifest transformation. We can do a little ritual that day to connect with Nature, be dedicated to raising consciousness about environmental issues, volunteer in a NGO to protect the environment, be conscious about recycling, pick up litter or just be mindful about our own garbage and impact on the ecosystem. May your heart expand with love and gratitude in whatever you choose to do.
Lots of Munay!
Current Cycle
From October 26, 2018 to July 12, 2019 (to read about the proposal and format for this cycle and download useful documents click here).
In Lak'esh & Munay,

Yellow Electric Star
In Lak'esh means "I am another yourself!", a Mayan greeting that recognizes the Divine in each living Being. It's a message of Unity that reminds us that, when we give, we are also receiving. In this way, the Mayan honored and respected each other, reinforcing the belief that we are all interconnected: what we do to others and to our environment will also affect ourselves in the end…
Munay means both 'Love' and 'Beauty' in Quechua, the language of the Incas. Munay, translated as 'To love', is one of the three principles of the Andean way.