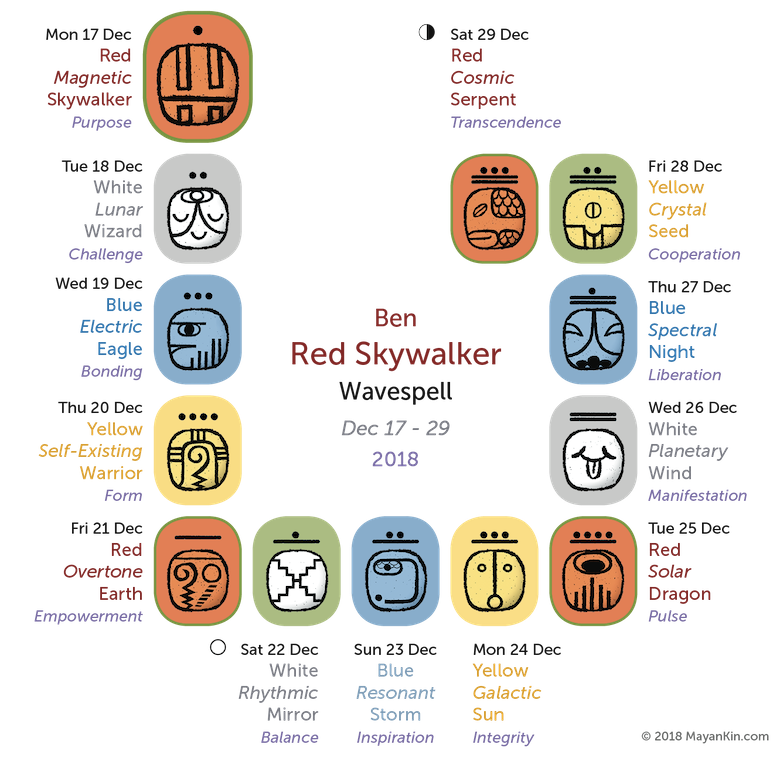 (click on image for more details – separate page will open)
Enjoying New Adventures
What an adventure 2018 has been! With all its ups and downs, lots of happy moments and some challenges as well, it's amazing that we are about to wrap this year up. It has passed by so fast! December tends to be a hectic month for many with so much that needs to get done at work, home, school, family gatherings, social events, and more. In spite of the commitments, it is also important to make time to be with oneself, to let go of the pressure and just enjoy.
Happy Solstice on December 21, the start of Winter in the North and Summer in the South! Wishing you all a Happy Holidays Season!
***
Choosing What to Keep and What to Let go of
(From December 17, 2018 to February 6, 2019)
Every four Wavespells of 13 days each, a new Castle starts. The Red Skywalker Wavespell initiates the White Castle of Refinement, a period of 52 days to organize ourselves and choose what we want to keep and what we are ready to release. You can check the 260-day matrix with the Gregorian Dates by clicking on the image or here.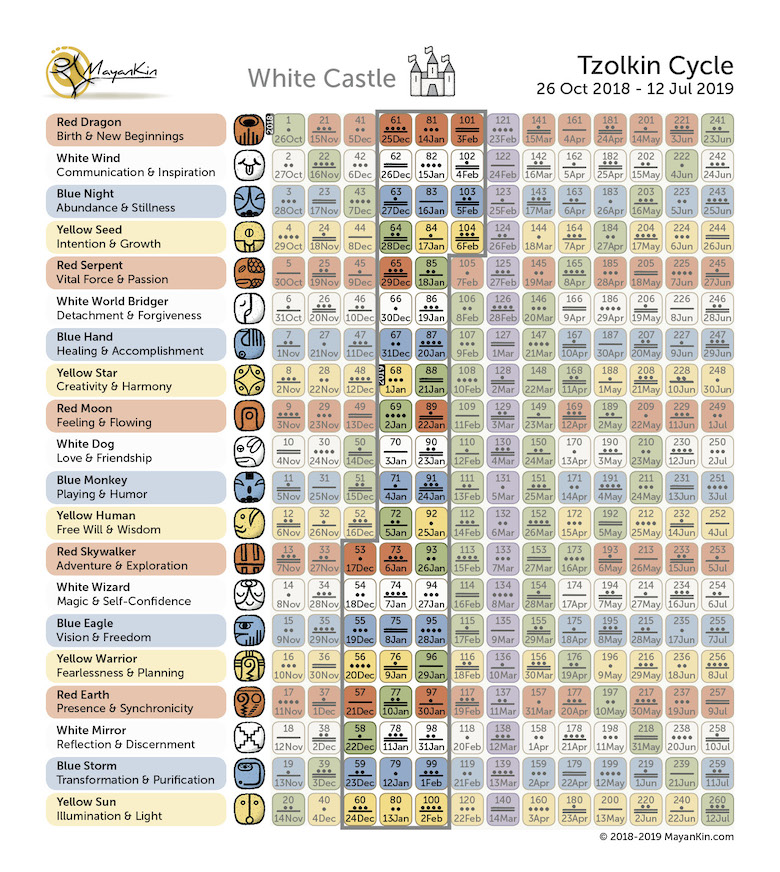 ***
Happy Solstice on December 21!
Solstices and Equinoxes are important times of the year marking a shift in Nature as the beginning of a new season. December 21 is the start of Winter in the North Hemisphere and Summer in the South. This time it falls on the Tzolkin energies of Red Overtone Earth, a day to empower ourselves through Nature as we "recharge our batteries" and consciously reconnect with our essence and natural rhythms. We will celebrate it here in Sedona Arizona with an Andean Despacho ceremony sharing our light and blessings with all! Aho!
***
Current Cycle
From October 26, 2018 to July 12, 2019 (to read about the proposal and format for this cycle and download useful documents click here).
In Lak'esh & Munay,

Yellow Electric Star
In Lak'esh means "I am another yourself!", a Mayan greeting that recognizes the Divine in each living Being. It's a message of Unity that reminds us that, when we give, we are also receiving. In this way, the Mayan honored and respected each other, reinforcing the belief that we are all interconnected: what we do to others and to our environment will also affect ourselves in the end…
Munay means both 'Love' and 'Beauty' in Quechua, the language of the Incas. Munay, translated as 'To love', is one of the three principles of the Andean way.