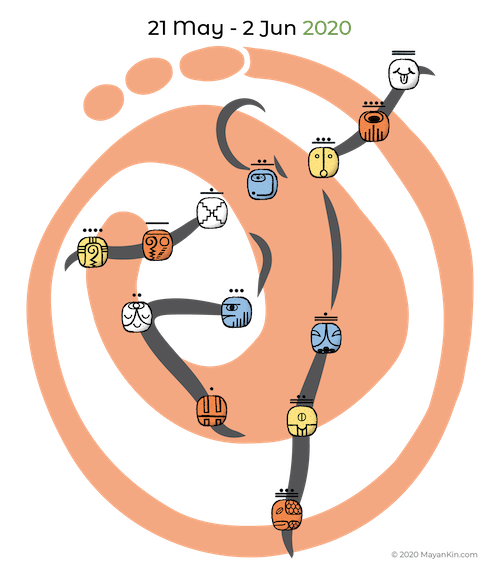 Click on the image to get the printable version
Enjoying our Adventures
Happy Red Skywalker Wavespell! These upcoming 13 days are great for exploring new places and ways of being in the world. Since we still cannot travel and do our "normal" life as before, how wonderful times to explore our immediate environment and… within. One of the lessons that Red Skywalker teaches us is that, if we continue going all over the place but we don't know what we are carrying in our "backpack", sooner or later it will become too heavy and we will not enjoy our adventures. So, continuing in this "pause" mode most of us are still in, let's ask ourselves, what are we really carrying within? What feels as a burden and we know we are ready to release in order to feel lighter and happier? The White Castle, which also starts today, is a period of 52 days (until July 11) that invites us to organize ourselves and see what we want to keep and what we want let go of. It's a great opportunity to become clear with our real priorities and act accordingly. Perfect timing!
These are the affirmations for the next 13 days:
| Day | Date | | Kin | Affirmation |
| --- | --- | --- | --- | --- |
| 1 | 21 May | | Magnetic Skywalker | I am ready for new Adventures! |
| 2 | 22 May | | Lunar Wizard | I am at peace when feeling self-confident! |
| 3 | 23 May | | Electric Eagle | I serve with an expanded vision! |
| 4 | 24 May | | Self-Existing Warrior | I shape my world by setting goals! |
| 5 | 25 May | | Overtone Earth | I empower myself when in Nature! |
| 6 | 26 May | | Rhythmic Mirror (GAP) | I restore balance with harmonious reflections! |
| 7 | 27 May | | Resonant Storm | I embrace change so I can transform! |
| 8 | 28 May | | Galactic Sun | I experience my Light with integrity! |
| 9 | 29 May | | Solar Dragon | I move forward in nurturing ways! |
| 10 | 30 May | | Planetary Wind | I manifest true and authentic expressions! |
| 11 | 31 May | | Spectral Night | I release blockages to attract Abundance! |
| 12 | 1 Jun | | Crystal Seed (GAP) | I share with others my growth! |
| 13 | 2 Jun | | Cosmic Serpent | I explore new ways with passion! |
These 13 affirmations, one for each day of this Wavespell, help to get in tune with the daily energies as a way to reflect, meditate, journal, do something creative or whatever inspires you. Say the daily affirmation out loud, see how it feels and move your body. If you are just joining, you can check here the proposal for this cycle to learn the meaning of a Wavespell embodiment and how to do it. Enjoy!
Tzolkin Daily Planner for this Cycle!
Digital Downloadable Format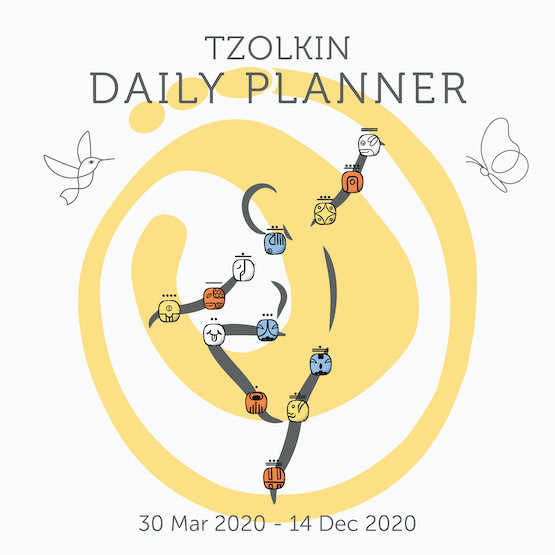 Get the digital version of the Tzolkin Daily Planner here so you can start this new cycle by planning your days in more meaningful and playful ways! As you embody the Wavespell daily, this Planner is also a great companion to log any special experience, as a synchronicity, insight, dream, event and others.
Trips for the Soul!
Since it is not clear yet how the situation with the coronavirus will unfold globally and when we will be able to travel, all my itineraries for this year are put on hold until further notice. Hopefully, a solution will be found soon and we can start planning for the future again. If all goes well, the intention is to move the trips to October and November of this year. Now the priority is for all of us to stay safe and be mindful of our own health and of others. I am developing a couple of new websites at the moment and look forward to share with you some photos and experiences from previous trips to virtually enjoy those beautiful and sacred places together!
Do you want to explore further?