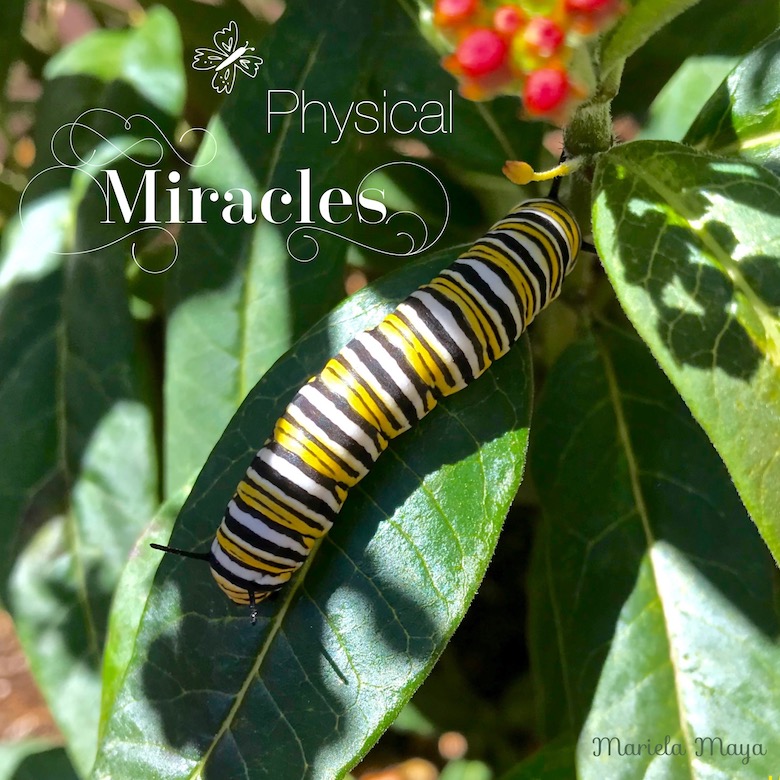 Shedding the Old for Renewal
Happy Blue Castle of Transformation!
You will find at the end of this message information on this intense period of 52 days that starts today and ends on July 13, 2018. There is also a document with dates you can download and print to have it handy as a reference for these almost two months.
I want to share with you first a beautiful metamorphosis experience I just had the chance to personally witness, and which is very much related to what this period is all about!
Last month, we went to Phoenix to a large Nursery garden to purchase plants for our house to attract butterflies. A couple of days after replanting them, one of the Milkweed plants didn't look happy at all. My Skywalker friend, who has a lot of experience with butterflies and plants, told me I had to cut it as short as possible to let the roots grow stronger. It made me sad to do so as the plant was great a few days earlier, but I listened to her advice and did exactly what she told me.
A couple of stems still had some green leaves at the top with flowers that were closed, so I put those in a vase with water inside the house and gave the rest back to Pachamama, Mother Earth.

A few days later, I found tiny black seeds on the counter where the vase was and I noticed that the little yellow flowers had opened. I happily gathered the 'Milkweed seeds', took them outside and planted them in the same pot where the original plant was still healing. I did a little ritual of gratitude thanking the plant for her beautiful gifts and giving her back the seeds in ayni, sacred reciprocity.
The same happened on the following day when I was very happy to find new seeds for my little planting ritual.
Well… when I found more seeds on the third day that looked bigger than the previous two days, I checked under the green leaves and… I there were two little caterpillars!!! I realized that I was not planting tiny Milkweed seeds as I thought but… caterpillar 'poop'! Oops! : ))
Those little caterpillars became huge in only one week! They ate all the green leaves on the vase and seemed very happy and healthy. I read that they grow thousands of times larger since birthing from the egg and it definitely seemed to be the case! It was amazing to see how fast they were growing, even on the same day the difference between their size in the morning and at night was quite big.

Exactly a week later, it was time to let them go… I was happy and sad at the same time, as we had developed a special bond in those few days. The weather was perfect so I took them outside in the morning and put them on a different Milkweed plant with beautiful little red flowers. One of the caterpillars seemed reluctant at first to let go of the familiar yellow leave that came from the vase so I held her on my hand until she slowly moved into the new plant.
We had to drive to another city that day and came back home in the evening… to realize there were no caterpillars around! After checking with my friend what to do next, she suggested to look all around and see where they chose to create their chrysalis as they could literally be anywhere, and not necessarily close to the plant where I left them. I looked and looked for two days in a row and couldn't find them. On the third day, after checking the plants and trees once again, I saw something green on one of Jacco's hiking shoes before entering to the house. There she was!!! From all the great spots they could have chosen, one of the caterpillars decided to do its cocoon in a very 'interesting' place : ))

We bought a fine mesh butterfly habitat to keep it safe from strong winds and potential predators, as spiders and frogs, among others. Being very careful and moving it slowly, we put the shoe inside. Since it was in a vertical position when creating the chrysalis, we had to recreate the same angle inside her new "home" and put a chunk of pinon wood in front of it to make sure it wouldn't slip off with the wind.
It generally takes between 7 to 14 days for a Monarch to hatch the chrysalis and emerge as a beautiful butterfly… For several days, I was "counting the seconds" for her arrival and yesterday, exactly 14 days after I found the chrysalis on the hiking shoe, she was born!

As shared in my Tzolkin book, which has several photos of butterflies I took in sacred places around the world including the one on its cover, butterflies have always been a big part of my journey since I was a child. Having witnessed this miraculous process of metamorphosis truly was a magical gift from the Universe since moving to Sedona!
I want to thank my Red Skywalker friend for her patience and wisdom in guiding me through this adventure, and to my White Dog friend for sharing her loving experience and tips in its final stage.
Wavespell of the Red Serpent
May 23 to June 4, 2018
It's Time to Shed!
If you are interested in the 13 questions that accompany this Wavespell please click here.
(The spiral shown in the linked message contains the dates for the previous cycle)
Blue Castle of Transformation
May 23 to July 13, 2018
Within the Tzolkin cycle of 260 days, there are five periods of time called Castles in its modern interpretation and each has 52 days. The Blue Castle of Transformation is the most intense period of all since it contains special days and portals. You can click on the image below or here to see a detailed document with its meaning and additional information on the two Galactic Activation Portals columns (GAP days), and the Core Days of the Mystic Column. The Harmonic Module or 260-day matrix shows the Gregorian dates for this Castle so you can get in tune with it daily and become an Alchemist within this transformational intensity!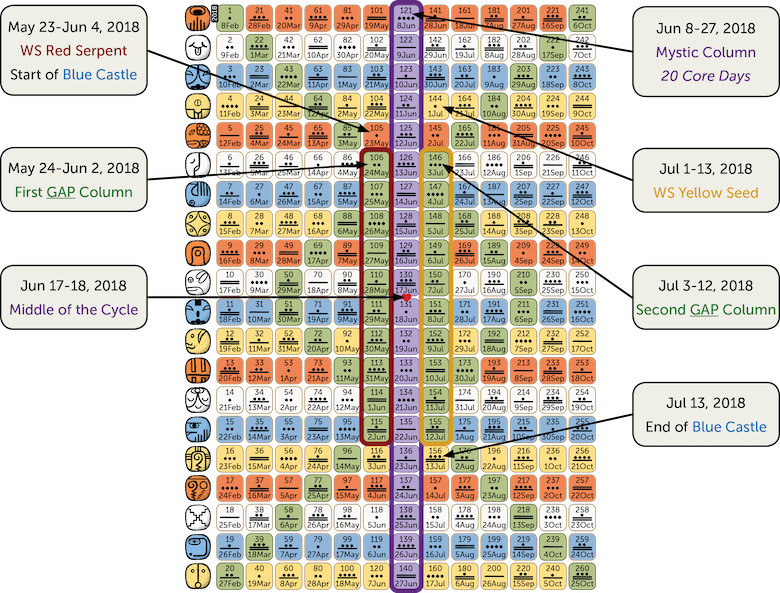 Current Cycle
February 8, 2018 to October 25, 2018 (to read about the proposal and format for this cycle and download useful documents click here).
In Lak'esh & Munay,

Yellow Electric Star
In Lak'esh means "I am another yourself!", a Mayan greeting that recognizes the Divine in each living Being. It's a message of Unity that reminds us that, when we give, we are also receiving. In this way, the Mayan honored and respected each other, reinforcing the belief that we are all interconnected: what we do to others and to our environment will also affect ourselves in the end…
Munay means both 'Love' and 'Beauty' in Quechua, the language of the Incas. Munay, translated as 'To love', is one of the three principles of the Andean way.