---
Carpe Diem ~ Seize the Day!
What an interesting time we are currently living through as humanity! While there were pandemics and other global events of large magnitude in the past, nothing can be really compared to what has unfolded since COVID-19.
The current Tzolkin cycle started on 30 March, 2020, when several countries were starting the lockdown. Since then, the world has considerably changed its dynamics and it is not clear yet when things will reopen, international travel will start back up and what the 'new normal' will look like.
Independently of all the difficulties it is creating for most of us, this transition can also be seen as a blessing for the Earth, for humanity, and for each one of us individually as an opportunity to reset and start a new personal and collective chapter.
During this global pause, or 'cocoon mode' as I call it, many are caught in fear and anger as they struggle with uncertainty, while others are opening up to new possibilities, reconnecting with their creative self and making the most out of this precious time to grow. Globally, as we see more violence and unrest, there is also a beautiful movement filled with love, and new opportunities arising to change and evolve.
Today, the energy of Red Magnetic Earth initiates the 13-day Red Earth Wavespell and the Yellow Castle for the next 52 days, and invites us to stay grounded and present, to grow healthy roots, and to restore our connection with Nature and our own essence. And Yellow Castle is all about learning the lessons offered and sharing our gifts with the world!
---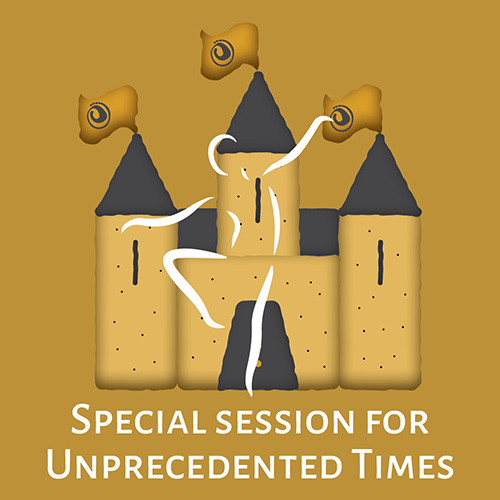 Coronavirus altered our plans for the last several months and limited us in certain ways. At the same time, we also gained more freedom and new opportunities to see and do things with a new approach. We are all unique and we are all experiencing this situation in different ways.
Symbolically, 'corona' in Spanish means 'crown'. How can you best empower yourself in these unprecedented times? How can you bring more meaning, beauty and purpose into your life? How can you enjoy your presence on Earth to raise your own vibrations, as you help to raise the frequency of the whole? How can you become of service to support others along the way?
Instead of continuing to wait for a change to happen, it's time to create it ourselves! And create it with presence, with love, with self-worth, and with determination.
Let's meet for 1.5 hours to gain clarity and receive guidance on how to best navigate during these times, and embrace all the opportunities available specifically for you at this moment.
In order to make this opportunity more accessible for all, this session has a special rate of $77, which includes a 40% discount compared to other sessions.
This special personal session is on an experiential level that you can integrate into your daily life right away, and it will only be available during this Yellow Castle from September 2 to October 23, 2020.
---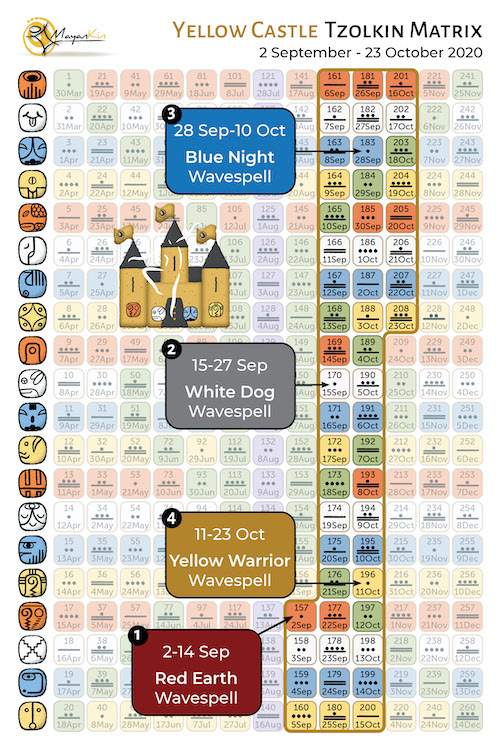 The Wavespells within the Yellow Castle, that starts today, are the following:
Red Earth a time to stay grounded and present with all our senses, as we reconnect with life's cycles, Nature and our own essence
White Dog a time for self-love, as we open our hearts with compassion while putting healthy boundaries to protect our own energy
Blue Night a time for dreaming our world into being, as we feel worthy of abundance on all levels to create the life we want
Yellow Warrior a time to set new goals, be flexible and resilient, and be fearless to move forward in a world filled with uncertainty
---
These are the affirmations for the next 13 days:
| Day | Date | | Kin | Affirmation |
| --- | --- | --- | --- | --- |
| 1 | 2 Sep | | Magnetic Earth | I am ready to be grounded and present! |
| 2 | 3 Sep | | Lunar Mirror | I am at peace when discerning the truth! |
| 3 | 4 Sep | | Electric Storm | I am of service by transforming! |
| 4 | 5 Sep | | Self-Existing Sun | I shape my world with clarity and strength! |
| 5 | 6 Sep | | Overtone Dragon | I empower myself with self-care! |
| 6 | 7 Sep | | Rhythmic Wind | I restore balance when I feel free to be me! |
| 7 | 8 Sep | | Resonant Night | I resonate with all in stillness! |
| 8 | 9 Sep | | Galactic Seed | I integrate my intentions to grow! |
| 9 | 10 Sep | | Solar Serpent (GAP) | I move forward by acting from my gut-feeling! |
| 10 | 11 Sep | | Planetary World Bridger | I manifest the bridge that I am! |
| 11 | 12 Sep | | Spectral Hand | I release what blocks me from feeling healthy! |
| 12 | 13 Sep | | Crystal Star (GAP) | I share with others my creations! |
| 13 | 14 Sep | | Cosmic Moon | I am receptive for synchronicities to unfold! |
These 13 affirmations, one for each day of this Wavespell, help to get in tune with the daily energies as a way to reflect, meditate, journal, do something creative or whatever inspires you. Say the daily affirmation out loud, see how it feels and move your body. If you are just joining, you can check here the proposal for this cycle to learn the meaning of a Wavespell embodiment and how to do it. Enjoy!
---
Tzolkin Daily Planner for this Cycle!
Digital Downloadable Format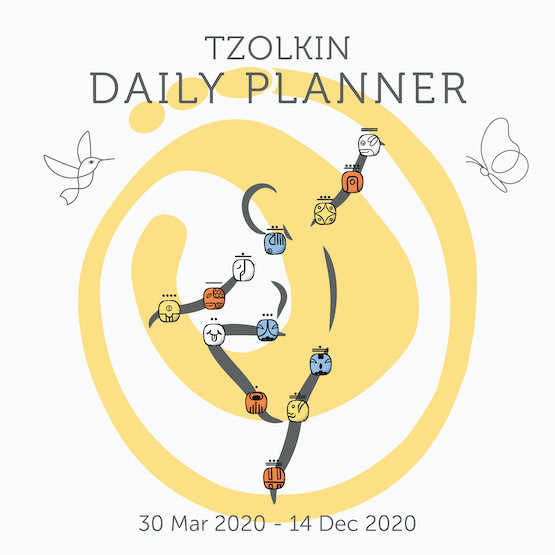 Get the digital version of the Tzolkin Daily Planner here so you can start planning your days in more meaningful and playful ways! As you embody the Wavespell daily, this Planner is also a great companion to log any special experience, as a synchronicity, insight, dream, event and others.
---
Do you want to explore further?