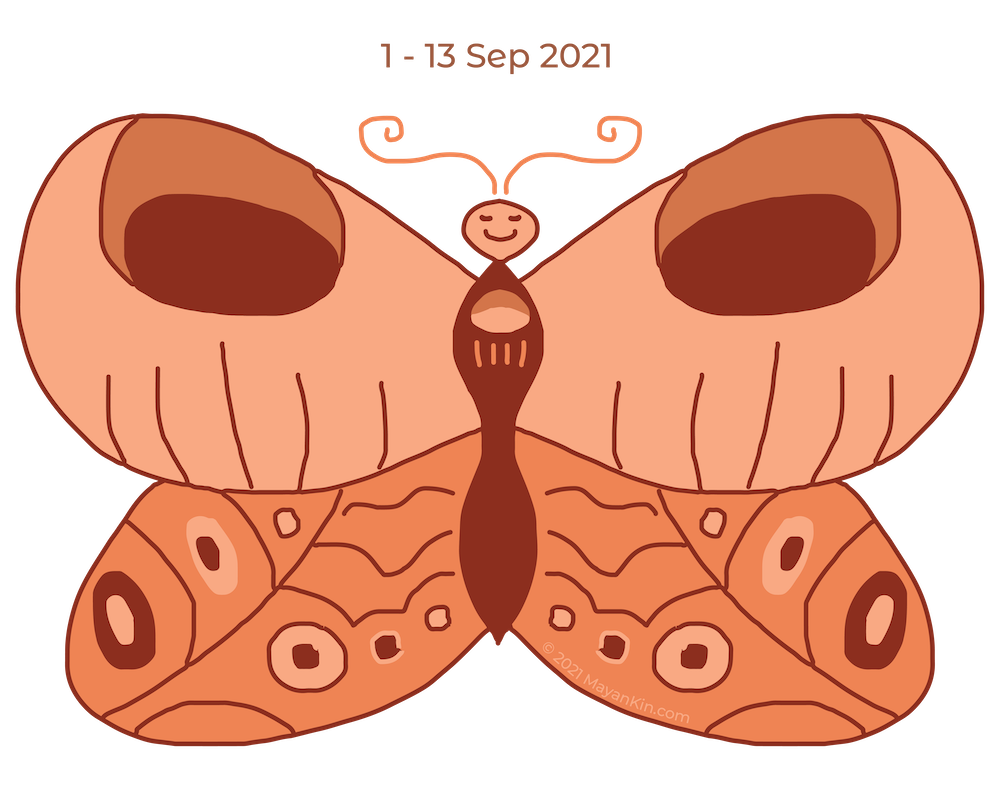 In this message you will find…
---
Happy New Tzolkin Cycle!
Red Magnetic Dragon (Kin 1) initiates today an entire new cycle for the next 260 days. What are your plans until 18 May 2022? Which things would you like to accomplish in these roughly 9 months?
Red Dragon is the archetype of Birth and New Beginnings reminding us of the importance to take care of ourselves on all levels so we can nurture our projects in ways that feel good, and we can bring to fruition whatever we aim for.
---
The Butterflies are Back!
Many cycles ago, I shared the Wavespell themes as a dialogue between a caterpillar and a butterfly. Several people have asked me if I would bring them back so… here they are some years later! 🙂
This is a much more fun and playful way of sharing the archetypes. The butterfly embodies the last stage of transformation embracing beauty and wholeness. The caterpillar is in a developmental phase and it still has lots to learn in order to become a butterfly. Since each archetype has many layers, both in the light and shadow aspects, I will choose one theme for each interaction to keep it simple.
The caterpillar always has issues and asks the butterfly for guidance. Symbolically, the butterfly represents the soul (light, love) and the caterpillar the ego (shadows, fears).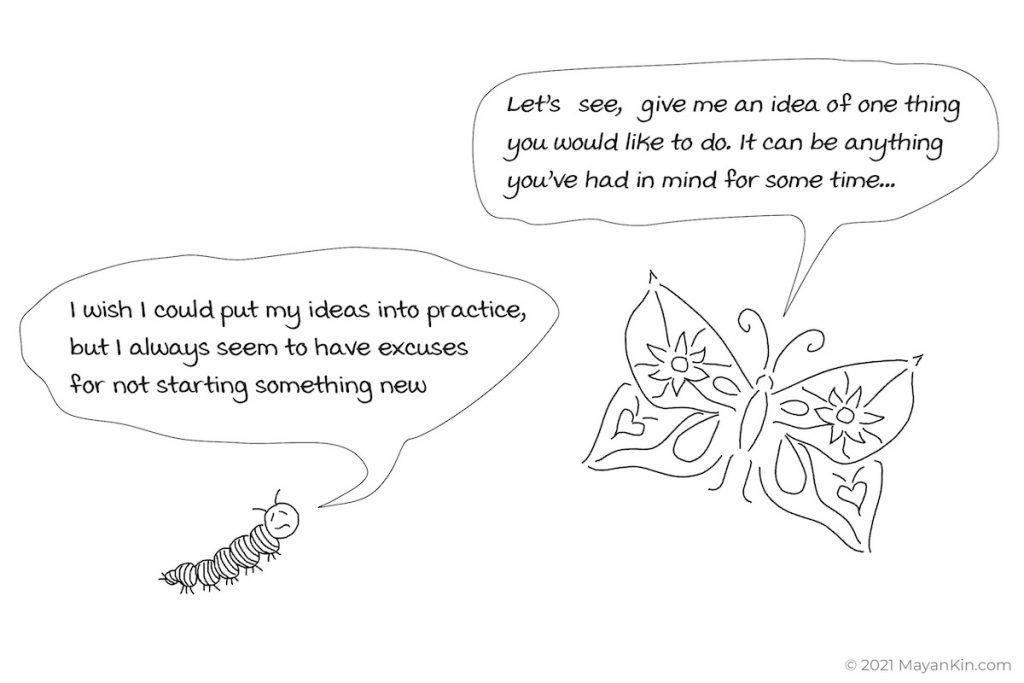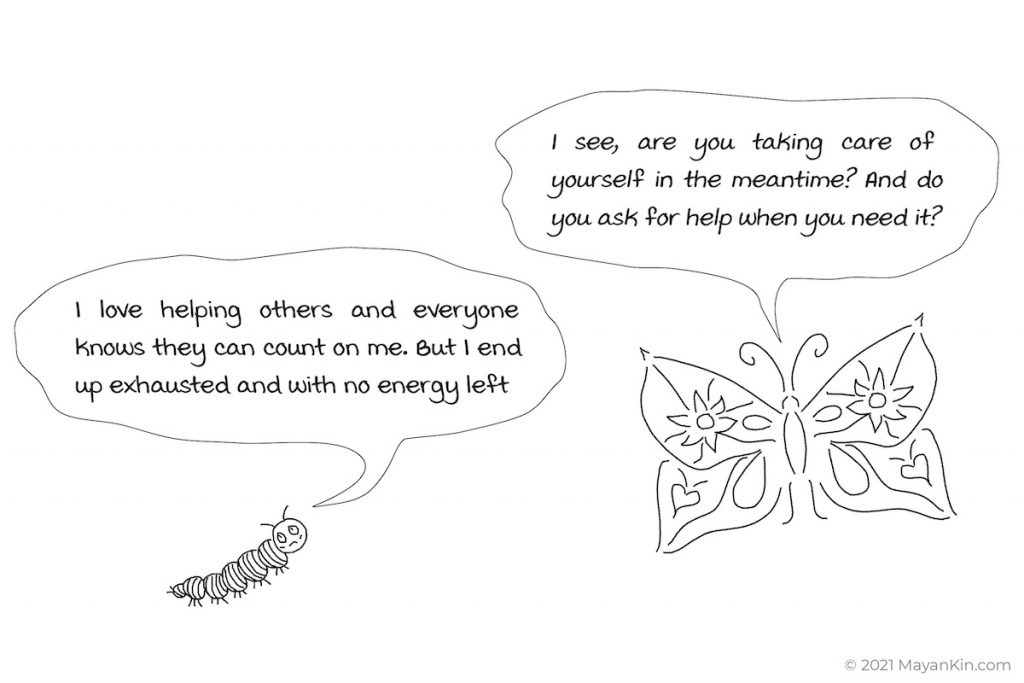 ---
Is the Tzolkin New for You?
The Tzolkin calendar is based on 20 glyphs or energies by 13 tones or numbers. In their combination, they create a matrix of 260 Kins where each day has a different energy. Every 13 days, a new Wavespell starts. This period of 13 days has an underlying theme that is determined by the Kin that falls on the first day of the Wavespell.
My Wavespell messages are based on the Dreamspell interpretation of the Tzolkin, the Sacred Mayan calendar, in correlation with the 13Moon Calendar.
If you are just getting familiar with it, the invitation is to play and have fun without trying to approach it from your rational mind. Just allow yourself to embark on a new adventure filled with magic and synchronicities, and let your intuition guide you. Understanding comes with practice. Enjoy!
---
Harmonic Module with Gregorian Dates
September 1, 2021 to May 18, 2022
The Harmonic Module or Tzolkin matrix is the chart that contains the 260 Kins. I invite you to click here or on the image below to see this entire cycle with its Gregorian dates so you can follow it and get in tune with the energies daily. If needed, I included a reference to the meaning of each one of the 20 archetypes.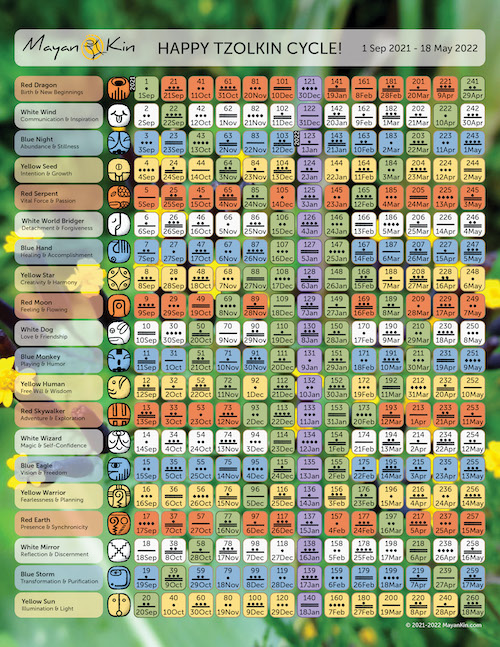 Remember to also visit the Daily Tzolkin each morning to read the message for the day and meditate, reflect, open up to insights, and do whatever you get inspired with in order to experience its wisdom.
If you want to continue embodying the Wavespells and using the questions or affirmations for each day, you can refer to the same Wavespell in previous cycles on the Blog page. The Gregorian dates will be different, but the 260 kins always follow the same sequence.
Happy New Beginnings to All!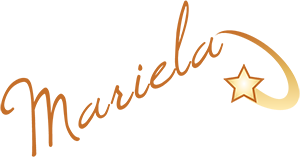 ---
Start the New Cycle Today
with the brand new Tzolkin Daily Planner!
Digital Product in PDF format (letter or A4 paper size)
Get the digital version of the Tzolkin Daily Planner here so you can start planning your days in more meaningful and playful ways! As you embody the Wavespell daily, this Planner is also a great companion to log any special experience, as a synchronicity, insight, dream, event and others.
---
Special Sessions Bundle
Would you like to receive guidance on how to release blockages and activate your energy in order to experience flow, feel better, and become clearer to create the life you want?
Check this new proposal of five personalized sessions where I combine different tools and modalities I have been using in my own life and in my practice including Chakra work, the Medicine Wheel, Andean Cosmovision and Creativity, among others.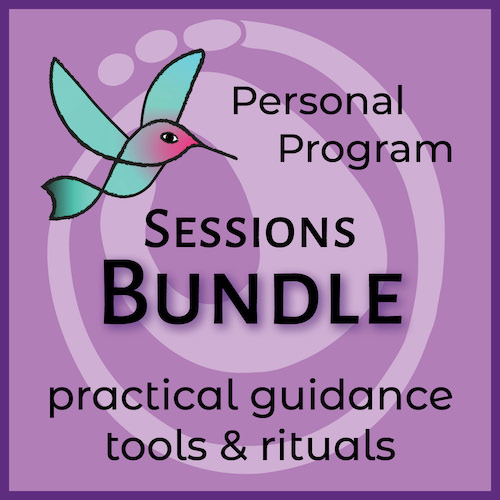 This inspiring and empowering bundle is wonderful for everyone and it also offers a great opportunity for deepening the work we have started with those of you that already experienced the Comprehensive Tzolkin Program.
---
How do you experience times of initiations and new beginnings in your journey?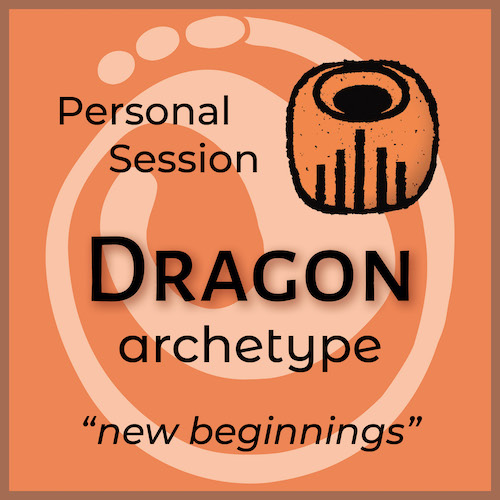 ---
Empower yourself by gaining new perspectives and clarity!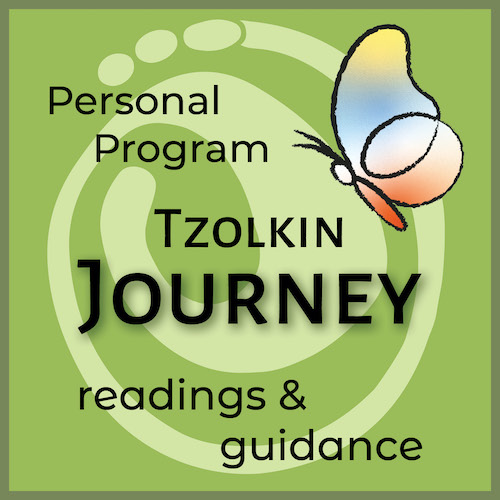 ---
Tzolkin Personal Coloring Journal
Only 7 left! Get yours now to start journaling on the first day of the upcoming cycle…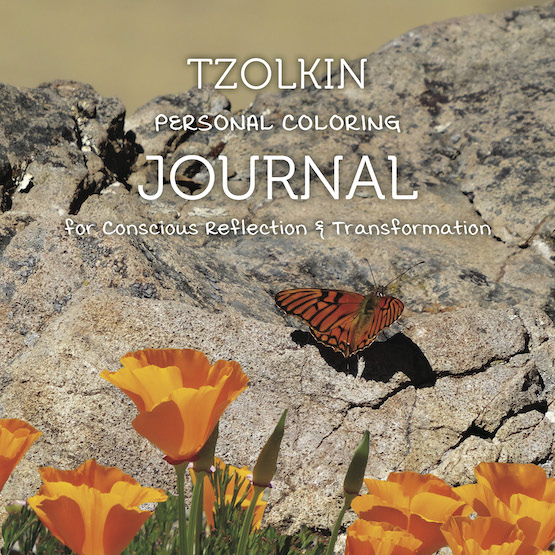 Are you ready to embark on a journey of self-discovery, empowerment and personal growth? This Personal Coloring Journal will help you embrace your life experiences in more creative and profound ways by becoming mindful (and heartful) of your surroundings and mainly of what is happening within you! This creative coloring journal is a great way to become aware of how you experience each day while getting in tune with the Tzolkin 260-day cycle.
---
---
Do you want to explore further?