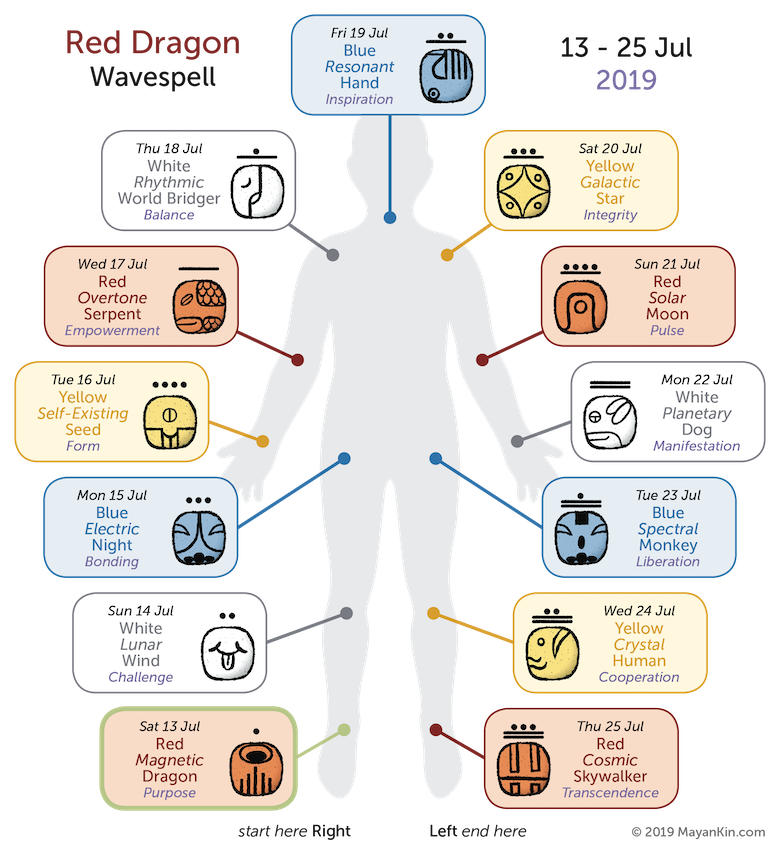 Click on the image to get the printable version
Happy New Tzolkin Cycle!
Today, July 13, 2019, an entire new Tzolkin cycle starts until March 29, 2020. During this first Wavespell, take your time to set new goals for the next 260 days. What are your intentions? Red Dragon, the underlying theme for the next 13 days, is all about pampering, nurturing and doing things in ways that feel good, as you give birth to new things. And always remember to ask for help when needed.
As you get in tune with the daily energies and Wavespells, you will see how your days become filled with magic, opportunities and synchronicities to manifest what you want!
Happy Day out of Time!
Based on the 13Moon Calendar, a year starts on July 26 and ends on July 24. There is one special day that is considered as a transition between the year that ends and the new year. This day is known as the Day out of Time and it always falls on July 25.
This time, July 25 is on the last day of the Red Dragon Wavespell with the energies of Red Cosmic Skywalker, a beautiful day for enjoying creative adventures and play with art. And, I be also celebrating my birthday 😀
New Wavespell Format
The proposal for this new cycle is to continue answering the daily questions, as you also embody the Wavespell by moving it physically. For those of you that have been following several Tzolkin cycles through my Wavespell messages, you will notice that this new format is a mix of previous layouts: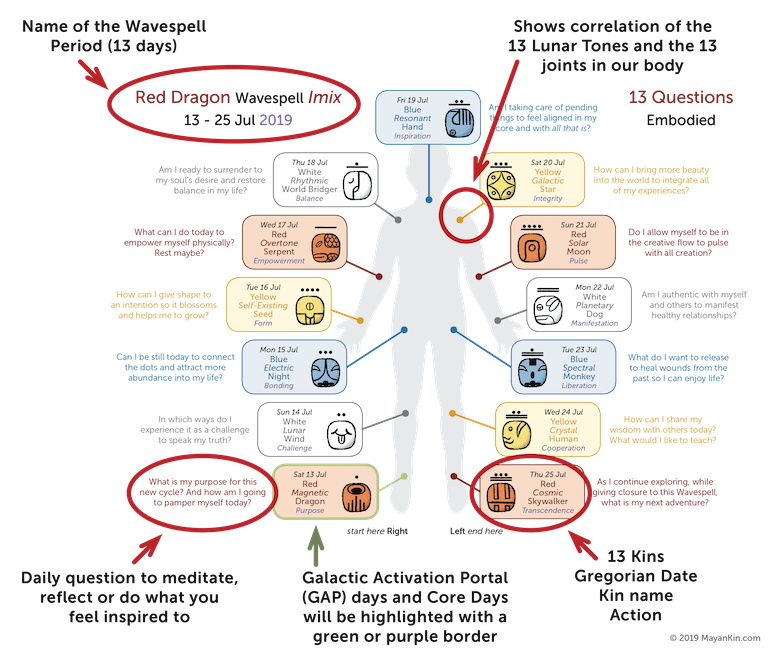 Embodying a Wavespell
A wonderful way to get in tune with the daily energies and experience the magic that unfolds in each Wavespell is by embodying it. The image included at the start of each Wavespell will show the correlation of each Kin (glyph/tone) in the Wavespell with one of the 13 joints in your body.
Give yourself a few minutes each morning, or whenever you get inspired during the day, to move your 13 joints in circular movements while connecting with the meaning of each day/joint for that particular Wavespell. You can read the questions out loud and listen to the answers within, write down 13 affirmations and repeat them as you move it, or find different ways that work for you. The intention is to move all 13 joints each day, starting with the right ankle, going all the way up on the right side, passing through the neck, going down the left side and ending with the left ankle.
Harmonic Module with Gregorian Dates
July 13, 2019 to March 29, 2020
The Tzolkin matrix that contains the 260 days or Kins is called Harmonic Module. You can click here or on the image below to see this entire cycle with its Gregorian dates. If you are just becoming familiar with the Tzolkin, there is a reference on the left to what each of the 20 archetypes mean.
Wavespells and Castles
highlighted in Harmonic Module
In order to know where we are transiting in the matrix, you will also find in each message the following image updated with the 13 days of the Wavespell of transit highlighted, as well as the Castle or 52-day period that Wavespell belongs to.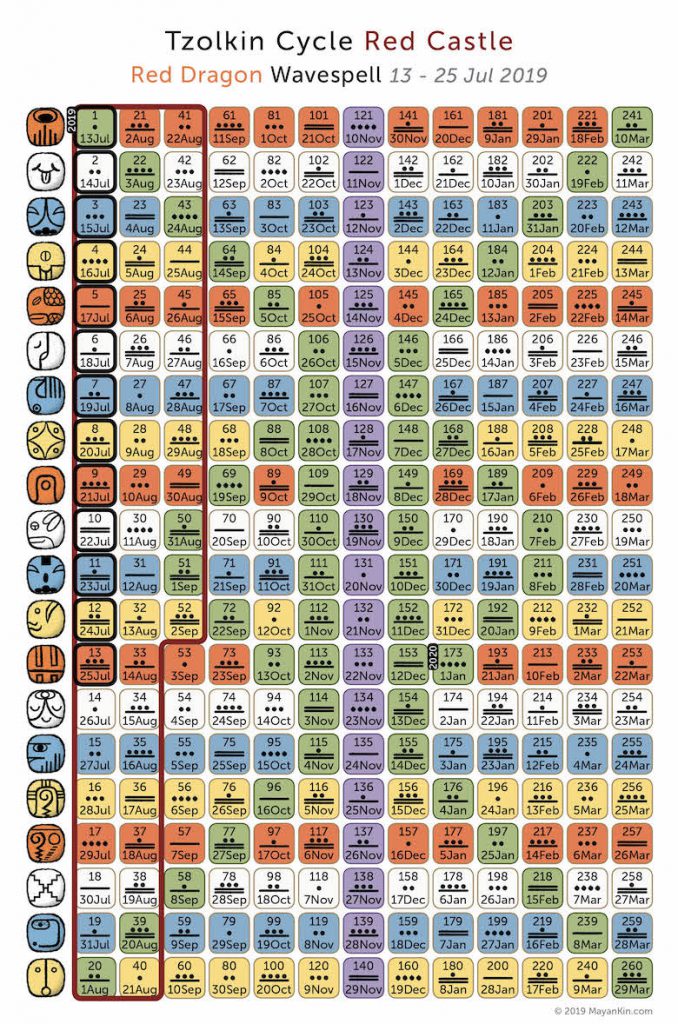 In addition to responding to the daily questions, embodying the Wavespell and knowing in which part of the cycle we are, you can also visit the Daily Tzolkin each morning to read the message for the day and meditate, reflect, open up to insights and act, as you get inspired. We are currently upgrading this date decoder to make it more simple and easier to use. Changes are coming soon!
And if you want to learn more about yourself and how you can use this wonderful tool to enhance your life, you can book a session and we will address whatever you may need at the moment.
Is this all new to you?
The Tzolkin calendar is based on 20 glyphs, archetypes or energies by 13 tones or numbers. In their combination, they create a matrix of 260 Kins where each day has a different energy (glyph/number). Every 13 days, a new Wavespell starts. This period of 13 days has an underlying theme that is determined by the Kin that falls on the first day of the Wavespell (as in the case of Red Dragon today).
Every 4 Wavespells, a new Castle starts. Within the Tzolkin cycle there are 5 Castles of 52 days each.
My Wavespell messages are based on the modern interpretation of the Tzolkin, the Sacred Mayan calendar, in correlation with the 13Moon Calendar.
If you are just getting familiar with it, the invitation is to play and have fun without trying to approach it from your rational mind. Just allow yourself to embark on a new adventure filled with magic and synchronicities and let your intuition guide you. The paradox of the Tzolkin is that, while it may seem complicated at first, it helps to make our lives easier. And understanding comes with practice. Enjoy!
Do you want to explore further?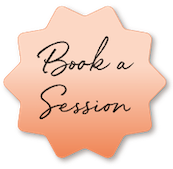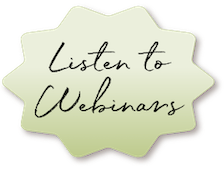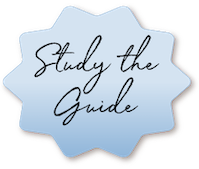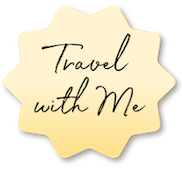 Wishing you all a great cycle and look forward to continue sharing new adventures together!