(click on image for more details – separate page will open)
After the Storm Comes the Sun
What a beautiful way to start 2019 and celebrate my Galactic birthday : -) After a snowstorm with cold and gray days, January 1st began with the most spectacular weather. The white snow, green trees, red rocks and very blue sky created a truly magical and breathtaking landscape.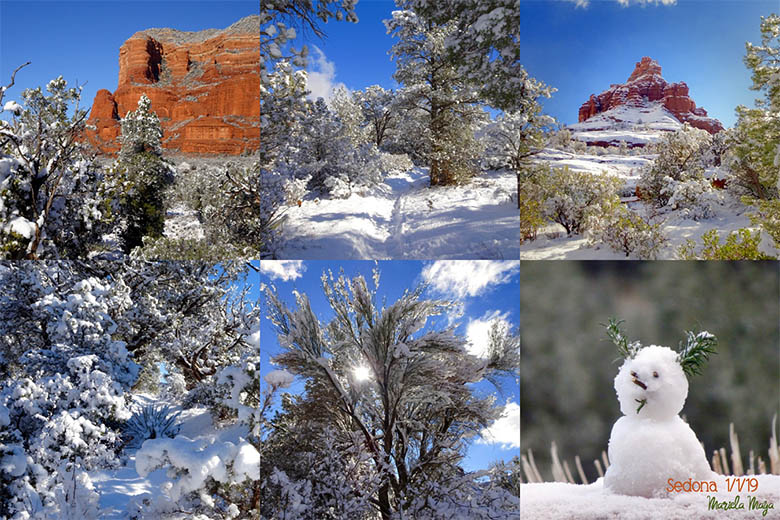 We left early in the morning with the intention of enjoying a short hike… which ended up being the entire day. Pachamama gave us so many gifts, including beautiful hearts everywhere! This was a great reminder that, while storms sometimes feel quite stormy, there is always beauty at the end.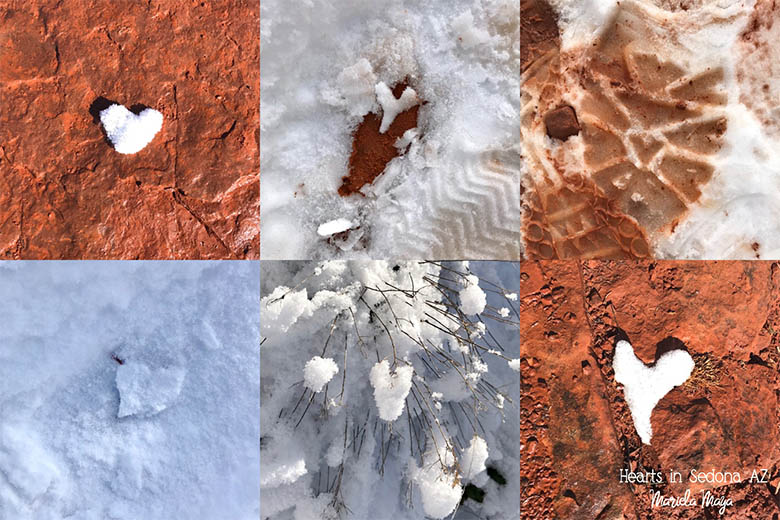 Super Blood Moon Total Lunar Eclipse January 20-21, 2019
The Full Moon on January 20-21 is the first moon of the year and happens with a Total Lunar Eclipse. This moon is also called Supermoon, Blood Moon and Wolf Moon.
It is the first supermoon of 2019, when the moon is closest to the Earth and looks bigger and brighter (called perigee). It is a Blood Moon, as the moon will turn into a reddish color. And, in some Native American cultures, it is called Wolf Moon since it is the first full moon of the year.
During a total lunar eclipse, the moonlight is blocked as the moon passes through the Earth's shadow. In the eclipse on January 20, the moon will look in a copper red color between 11:41pm and 12:44am EST. The maximum eclipse will be at 12:12am EST and it will be mainly visible in the Americas and part of Europe. You can check your time zone here and type New York and your location.
Full moons happen every 28 days and symbolize a moment of completion, as the roundness of the bright moon gets full and complete. It is a powerful day to do a little ritual giving closure and releasing whatever we are ready to let go of. When there is a lunar eclipse and the light is blocked, it is an invitation to go within and allow hidden things to come to surface so we can change what has been blocking us from growing.
From the Tzolkin perspective, on January 22 just after the eclipse, Red Spectral Moon invites us to release toxic and repressed emotions so we can deepen into our transformational journey and restore wellbeing. By consciously being in the flow rather than "going with the flow", this is a great opportunity to transform the old and manifest long-lasting changes.
While I will connect with my personal process and do my own ritual that day, hope we have a clear sky here in Sedona so I can share with you photos afterwards : -)
Current Cycle
From October 26, 2018 to July 12, 2019 (to read about the proposal and format for this cycle and download useful documents click here).
In Lak'esh & Munay,

Yellow Electric Star
In Lak'esh means "I am another yourself!", a Mayan greeting that recognizes the Divine in each living Being. It's a message of Unity that reminds us that, when we give, we are also receiving. In this way, the Mayan honored and respected each other, reinforcing the belief that we are all interconnected: what we do to others and to our environment will also affect ourselves in the end…
Munay means both 'Love' and 'Beauty' in Quechua, the language of the Incas. Munay, translated as 'To love', is one of the three principles of the Andean way.