---
Awakening Inner Treasures
We tend to look for abundance outside of ourselves. COVID-19 has created a very particular situation globally where many lost their jobs or main source of income, international travels are very limited or non-existent to several destinations, and we suddenly realized that we cannot continue only relying on the outer world and the ways we used to do things.
These times are also giving us great opportunities to look within and connect with our inner resources. Blue Night is the archetype of Dreaming the Abundance and, one of its main teachings, is the importance of giving oneself time for stillness and introspection to find and awaken the treasures that reside within.
---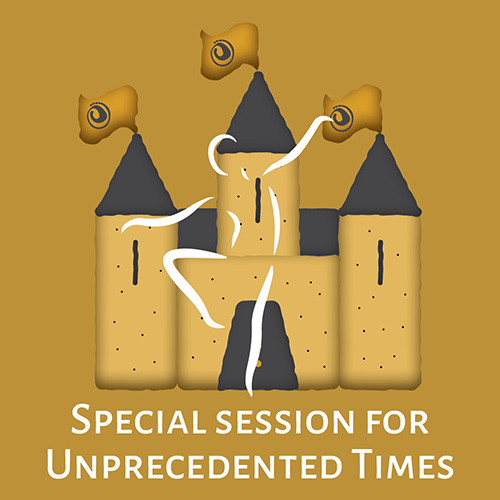 Let's meet for 1.5 hours to gain clarity and receive guidance on how to best navigate during these times, and embrace all the opportunities available specifically for you at this moment. The four Wavespells within the Yellow Castle are:
Red Earth a time to stay grounded and present with all our senses, as we reconnect with life's cycles, Nature and our own essence
White Dog a time for self-love, as we open our hearts with compassion while putting healthy boundaries to protect our own energy
Blue Night a time for dreaming our world into being, as we feel worthy of abundance on all levels to create the life we want
Yellow Warrior a time to set new goals, be flexible and resilient, and be fearless to move forward in a world filled with uncertainty
Instead of continuing to wait for a change to happen, it's time to create it ourselves! And create it with presence, with love, with self-worth, and with determination.
During this session, we will go over what these four archetypes mean to you, how you experience them on an ego and soul level, and which rituals you can do to transform shadows into light.
This special personal session is on an experiential level that you can integrate into your daily life right away, and it will only be available during this Yellow Castle from September 2 to October 23, 2020.
---
These are the affirmations for the next 13 days:
| Day | Date | | Kin | Affirmation |
| --- | --- | --- | --- | --- |
| 1 | 28 Sep | | Magnetic Night | I am ready to attract Abundance into my life! |
| 2 | 29 Sep | | Lunar Seed (GAP) | I am at peace when being patient! |
| 3 | 30 Sep | | Electric Serpent | I activate service through passion! |
| 4 | 1 Oct | | Self-Existing World Bridger | I shape my life by being the bridge! |
| 5 | 2 Oct | | Overtone Hand | I empower myself with a healthy lifestyle! |
| 6 | 3 Oct | | Rhythmic Star | I restore balance with creativity! |
| 7 | 4 Oct | | Resonant Moon (GAP) | I resonate with all that is by being and flowing! |
| 8 | 5 Oct | | Galactic Dog | I integrate my experiences with love! |
| 9 | 6 Oct | | Solar Monkey | I move forward with ease and joy! |
| 10 | 7 Oct | | Planetary Human (GAP) | I manifest what I want based on my choices! |
| 11 | 8 Oct | | Spectral Skywalker | I release what blocks me from exploring! |
| 12 | 9 Oct | | Crystal Wizard | I share with others my magic! |
| 13 | 10 Oct | | Cosmic Eagle | I shift my perception to live abundantly! |
These 13 affirmations, one for each day of this Wavespell, help to get in tune with the daily energies as a way to reflect, meditate, journal, do something creative or whatever inspires you. Say the daily affirmation out loud, see how it feels and move your body. If you are just joining, you can check here the proposal for this cycle to learn the meaning of a Wavespell embodiment and how to do it. Enjoy!
---
Tzolkin Daily Planner for this Cycle!
Digital Downloadable Format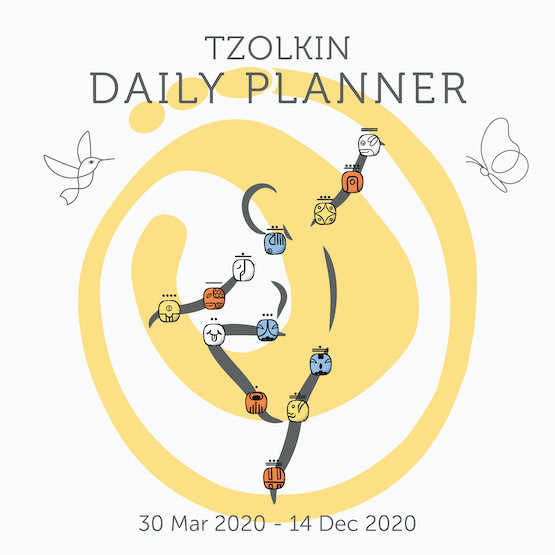 Get the digital version of the Tzolkin Daily Planner here so you can start planning your days in more meaningful and playful ways! As you embody the Wavespell daily, this Planner is also a great companion to log any special experience, as a synchronicity, insight, dream, event and others.
---
Do you want to explore further?