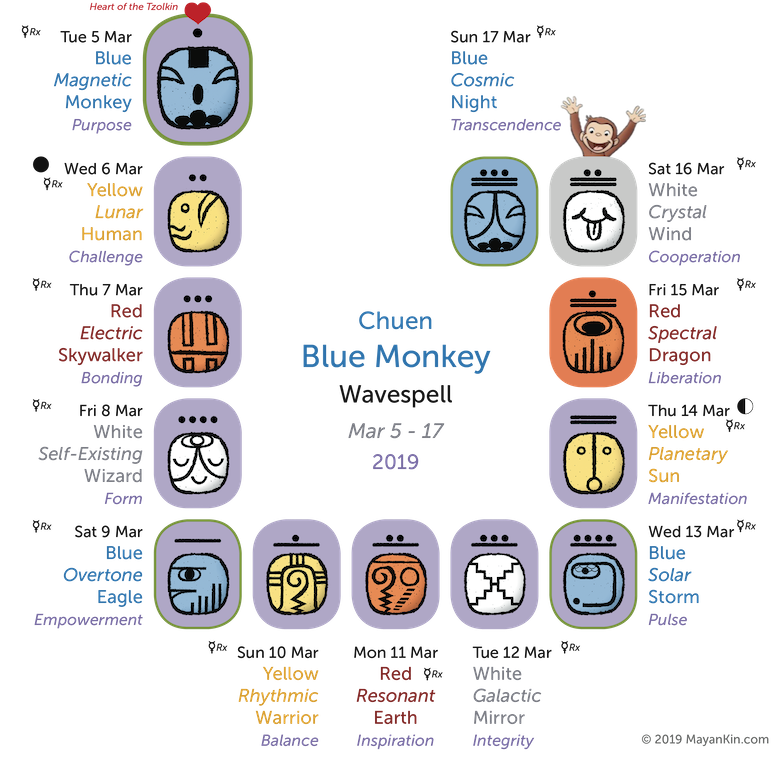 (click on image for more details – separate page will open)
HAPPY BLUE CASTLE OF TRANSFORMATION!
February 7 to March 30, 2019
Third Wavespell – Blue Monkey
The Blue Monkey Wavespell is the third period of 13 days within the Blue Castle of Transformation. Blue Monkey is our inner child, eager to enjoy life, to have fun and play! This Wavespell starts at the Heart of the Tzolkin, the center of the center, a time to be centered in our hearts and pulse with all creation. The first 10 days are Core Days within the Mystic Colum.
For additional information, check this updated document highlighting where we are in the Tzolkin matrix including the Gregorian dates.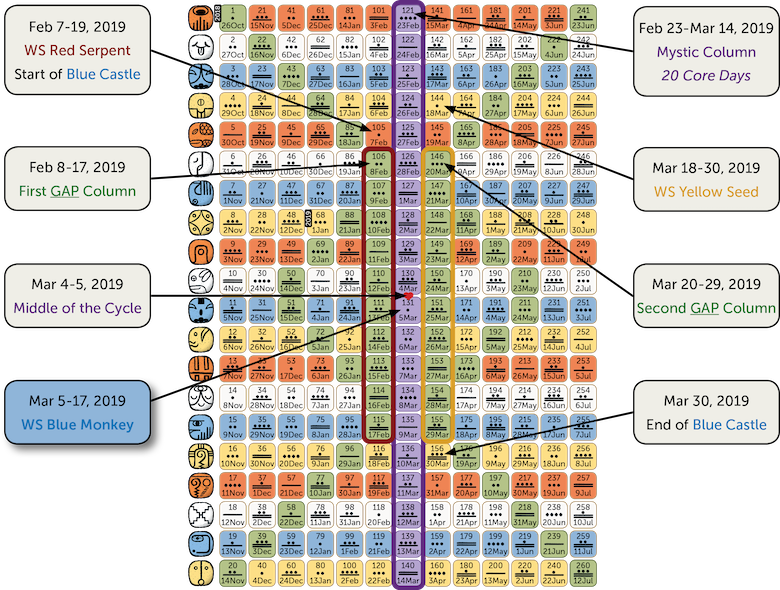 Mercury Retrograde ~ March 5 to 28, 2019
This time, Blue Magnetic Monkey also initiates the period of Mercury retrograde until March 28, 2019. When Mercury seems to be in 'reverse', it is a great time to 're': re-visit, re-view, re-store and re-boot!
Mercury is the planet that rules communications so, when retrograde, it is associated with having an overall impact on productivity, creating misunderstandings, problems with technology, travels and delays. From another perspective, Mercury is also known as the Messenger of the Gods (Hermes in Greek mythology) and, when retrograde, it is necessary to stop and listen as it has important messages to give to us.
Rather than moving forward and starting new projects, the next three weeks are perfect for reflecting on where we are at the moment as we give closure to what we have already started. And Blue Monkey reminds us to enjoy the process and do it in joyful and playful ways!
Current Cycle
From October 26, 2018 to July 12, 2019 (to read about the proposal and format for this cycle and download useful documents click here).
In Lak'esh & Munay,

Yellow Electric Star
In Lak'esh means "I am another yourself!", a Mayan greeting that recognizes the Divine in each living Being. It's a message of Unity that reminds us that, when we give, we are also receiving. In this way, the Mayan honored and respected each other, reinforcing the belief that we are all interconnected: what we do to others and to our environment will also affect ourselves in the end…
Munay means both 'Love' and 'Beauty' in Quechua, the language of the Incas. Munay, translated as 'To love', is one of the three principles of the Andean way.