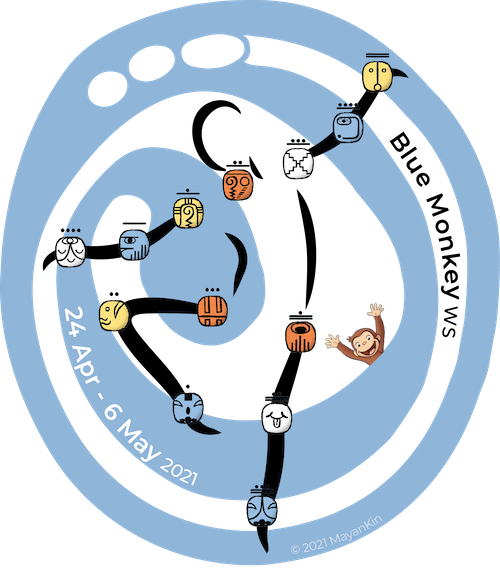 Click here or on the image above to get the daily questions for this Wavespell!
---
Happy Earth Day on 22 April
I would like to invite you to take a moment today to honor Mother Earth, Gaia, Pachamama, and to express our deepest heart-felt gratitude for all that she gives us!
Observed since 1970, April 22 is known as Earth Day. While it started as an initiative for environmental protection, education, conservation and restoration, it has expanded over the years to also be a day for global celebration and reflection.
How have we been treating the Earth, this magnificent, nurturing and loving living and breathing being that is present in all living things? Are we really aware of the impact of our actions? Let me share three powerful videos that will help us to reflect:
Dear Future Generations: Sorry
(Prince Ea)
Man vs Earth
(Prince Ea)
A Letter from The Coronavirus (COVID 19)
(Amz Choudhury)
As the world has slowed down, we can now listen to the Earth. It is a choice. We can choose to listen to the voice of Pachamama, to feel her, and to consciously appreciate, care for and respect our beautiful planet. Remember, we are Nature! What we do to the Earth, we are doing it to ourselves.
In spite of all the difficulties that this pandemic has generated, what are the gifts and lessons in it for us all, as humanity?
Which concrete actions can you take today, and everyday, to contribute to a healthier and happier environment? How can you be part of this global change?
---
❤️ Heart of the Tzolkin on 23-24 April 2021 ❤️
On Friday, White Cosmic Dog invites us to open our hearts and feel this deep love for Mother Earth, for one another, for one self, and for all creation. The more we choose to live a heart-centered life with authenticity, appreciation and respect for each other, the easier it will be to truly create and enjoy our experiences on this planet.
Between April 23-24 (Kins 130-131), we are in the Heart of the Tzolkin, the middle of this cycle, the center, back to our Heart. And, Saturday, April 24, initiates the Wavespell of Blue Monkey, inviting us to be more playful, to find ways to lessen our worries, and to bring more joy into whatever we do.
The Blue Monkey Wavespell is the third period of 13 days within the Blue Castle. The Blue Castle is the most intense time in the 260-day Tzolkin cycle since it contains 40 special days and portals. You can click on the image below or here to see what it means and a reference to the Gregorian dates so you can get in tune with it daily and become the Alchemist within this transformational intensity!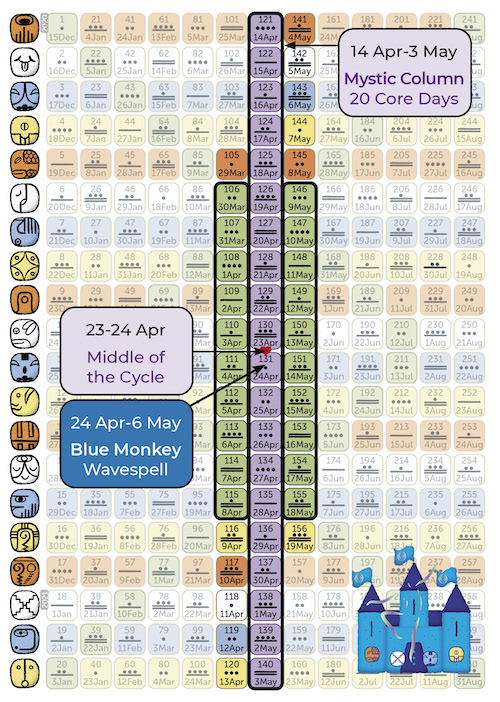 ---
Interested to navigate the turbulence of the Blue Castle consciously?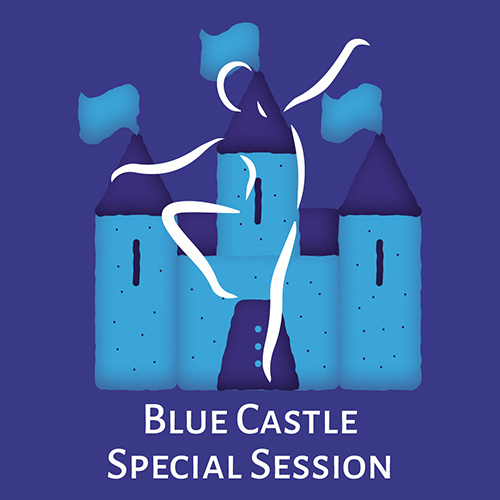 ---
Special Sessions Bundle
Would you like to receive guidance on how to release blockages and activate your energy in order to experience flow, feel better, and become clearer to create the life you want?
Check this new proposal of five personalized sessions where I combine different tools and modalities I have been using in my own life and in my practice including Chakra work, the Medicine Wheel, Andean Cosmovision and Creativity, among others.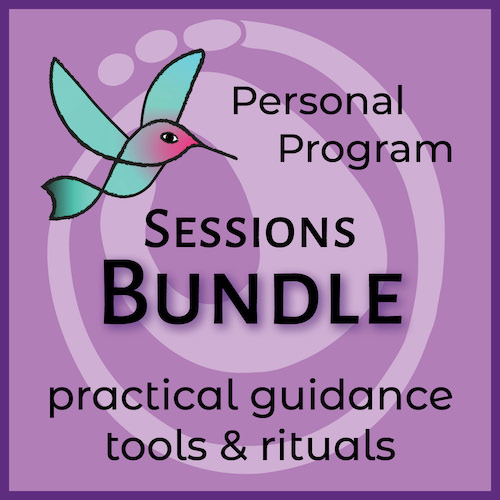 This inspiring and empowering bundle is wonderful for everyone and it also offers a great opportunity for deepening the work we have started with those of you that already experienced the Comprehensive Tzolkin Program.
---
Are you ready to release concerns, be less serious and play more?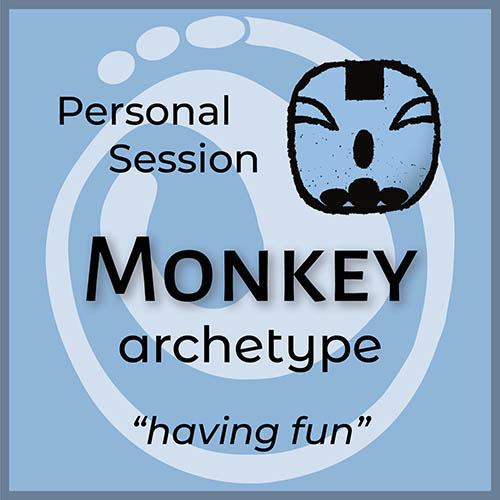 ---
Empower yourself by gaining new perspectives and clarity!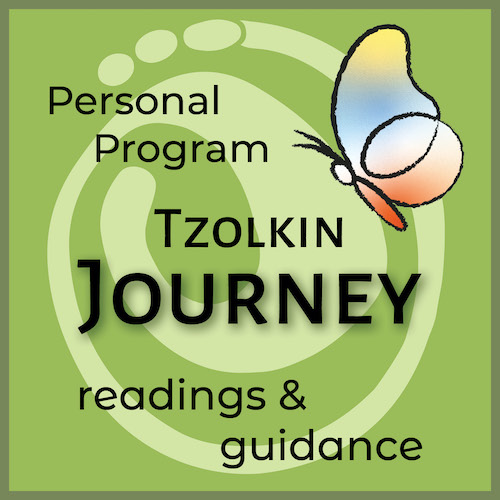 ---
Tzolkin Daily Planner for the Current Cycle
Digital Product in PDF format (letter or A4 paper size)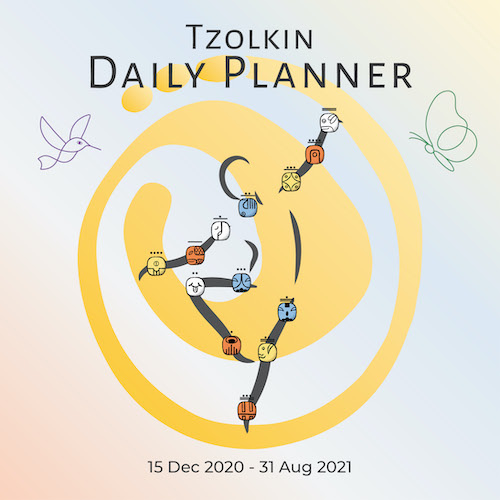 Get the digital version of the Tzolkin Daily Planner here so you can start planning your days in more meaningful and playful ways! As you embody the Wavespell daily, this Planner is also a great companion to log any special experience, as a synchronicity, insight, dream, event and others.
---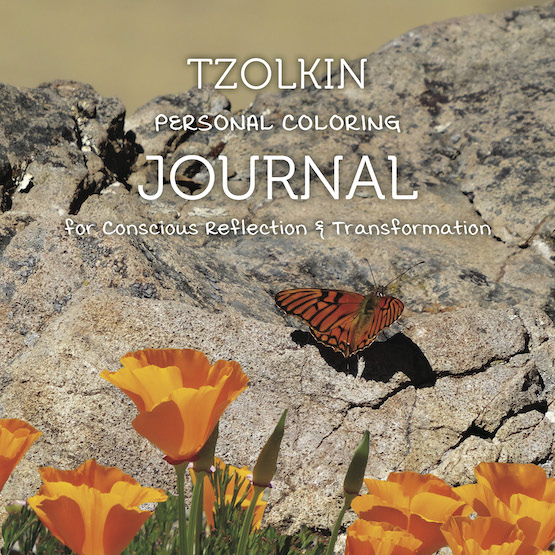 Are you ready to embark on a journey of self-discovery, empowerment and personal growth? This Personal Coloring Journal will help you embrace your life experiences in more creative and profound ways by becoming mindful (and heartful) of your surroundings and mainly of what is happening within you! This creative coloring journal is a great way to become aware of how you experience each day while getting in tune with the Tzolkin 260-day cycle.
---
---
Do you want to explore further?