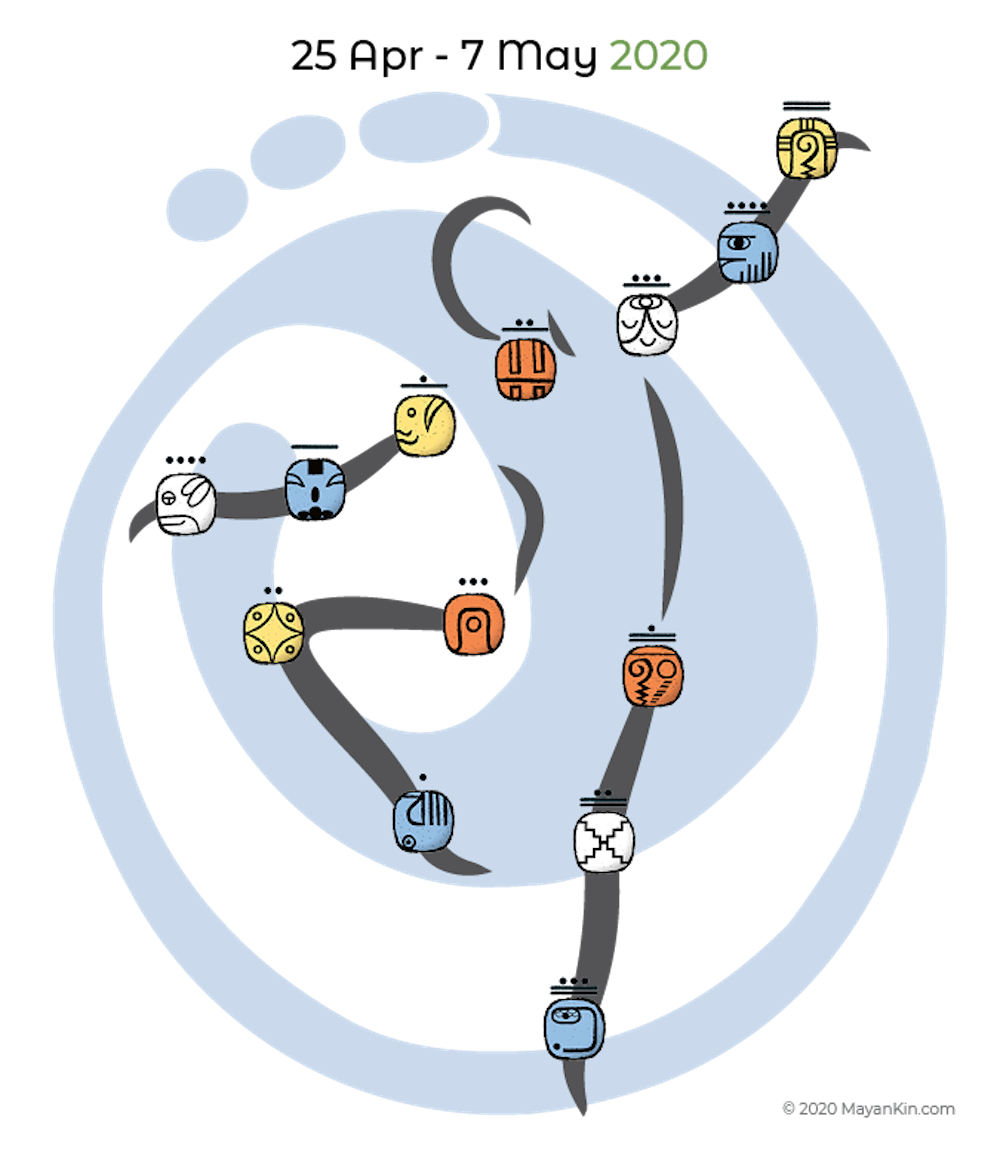 Click on the image to get the printable version
Happy Blue Hand Wavespell!
As we know, everything is energy, the Universe is made out of energy, and so are we. Since matter and energy can be converted into each other, we can approach healing from both the material and energetic perspective. Energy moves in and through us, and we create vibrational frequencies that match our reality. Our vibrational frequencies affect our energy field, and our energy field affects the energy field of others and the planet. We are all connected!
The Tzolkin archetype of Blue Hand is about healing body, mind, heart and soul in holistic ways. When we feel healthy, balanced and stronger, we are more energized, motivated and happy. And, when we experience overall wellbeing, we raise our vibrations and we contribute to raising the vibrations of the whole.
These are the affirmations for the next 13 days:
| Day | Date | | Kin | Affirmation |
| --- | --- | --- | --- | --- |
| 1 | 25 Apr | | Magnetic Hand | I am ready to heal body, mind, heart and soul! |
| 2 | 26 Apr | | Lunar Star | I am at peace when I see beauty in all that is! |
| 3 | 27 Apr | | Electric Moon | I feel all of my feelings and things flow! |
| 4 | 28 Apr | | Self-Existing Dog | I shape my world with love! |
| 5 | 29 Apr | | Overtone Monkey | I empower myself by having fun in what I do! |
| 6 | 30 Apr | | Rhythmic Human | I restore balance by making conscious choices! |
| 7 | 1 May | | Resonant Skywalker | I explore ways to be centered! |
| 8 | 2 May | | Galactic Wizard | I integrate my experiences with rituals! |
| 9 | 3 May | | Solar Eagle | I move forward by spreading my wings and fly! |
| 10 | 4 May | | Planetary Warrior | I manifest my goals fearlessly! |
| 11 | 5 May | | Spectral Earth | I release what blocks me from grounding! |
| 12 | 6 May | | Crystal Mirror | I share with others happy reflections! |
| 13 | 7 May | | Cosmic Storm (GAP) | I transform and evolve in healthy ways! |
These 13 affirmations, one for each day of this Wavespell, help to get in tune with the daily energies as a way to reflect, meditate, journal, do something creative or whatever inspires you. Say the daily affirmation out loud, see how it feels and move your body. If you are just joining, you can check here the proposal for this cycle to learn the meaning of a Wavespell embodiment and how to do it. Enjoy!
As we continue in this "pause" mode created by the Coronavirus, it's amazing to see how Pachamama, Gaia, Mother Earth, is sooo happy and blossoming! Here in Sedona, Arizona, the fields are full of flowers, butterflies, birds, and all is colorful and perfumed. Speaking with people that have lived here for over 20 years, they say it's the first time they see the land like this. No pollution, no traffic or airplanes and no tourists (in high season) is definitely making a difference!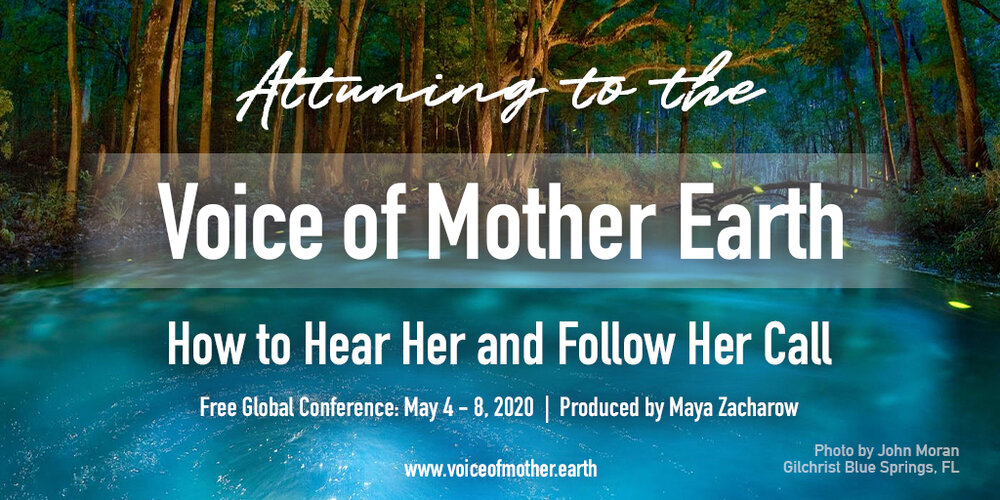 To keep our vibrations high in these intense times, I would like to invite you to a special Global Summit called Attuning to the Voice of Mother Earth where we will explore together with other great speakers practical steps and actions we can take as individuals to deepen our connection to Mother Earth while at the same time discovering a way to our truer selves. During this 5-day event (May 4-8) you will have access to inspired teachings, practices, meditations, self-inquiry and much more! Please make sure to sign up to get access to all the interviews. After you register, you will have access to the speakers page where you can download a special gift I prepared for you!
Tzolkin Daily Planner for this Cycle!
Digital Downloadable Format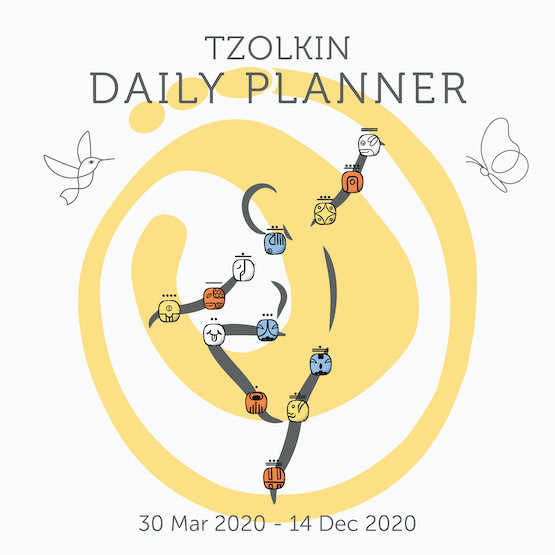 Get the digital version of the Tzolkin Daily Planner here so you can start this new cycle by planning your days in more meaningful and playful ways! As you embody the Wavespell daily, this Planner is also a great companion to log any special experience, as a synchronicity, insight, dream, event and others.
Trips for the Soul!
Since it is not clear yet how the situation with the coronavirus will unfold globally and when we will be able to travel, all my itineraries for this year are put on hold until further notice. Hopefully, a solution will be found soon and we can start planning for the future again. If all goes well, the intention is to move the trips to October and November of this year. Now the priority is for all of us to stay safe and be mindful of our own health and of others. I am developing a couple of new websites at the moment and look forward to share with you some photos and experiences from previous trips to virtually enjoy those beautiful and sacred places together!
Do you want to explore further?